Published on Sept. 1, 2014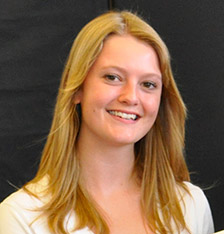 MU students Ida Sophie Winter and Sasha Gubina will spend the upcoming academic year away from Mizzou after earning the David L. Boren Scholarship, which funds study abroad opportunities to areas of the world that are critical to the future security of United States interests.
Winter will study in Morocco, while Gubina is traveling to Jordan.
In applying for the scholarship, Winter presented an argument on Morocco's importance to U.S. national security. Her rationale included the possibility for economic instability due to a potential drain on resources depending on how much the Moroccan government contributes to its large sub-Saharan immigrant population.
"You can't even talk about a culture until you live there and have observed how people think," Winter says.
Gubina plans to participate in an internship that would benefit the local communities through service work at schools or refugee centers, while also taking part in traditional cultural events and visiting historical sights.
"I hope to progress in my knowledge of the language both in formal and colloquial Arabic," Gubina says. "I would also like to learn more about the cultural aspects of Jordan and other Arabic-speaking countries."
Boren Scholarships are funded by the National Security Education Program, which focuses on geographic areas, languages and fields of study deemed critical to U.S. national security.