Published on Sept. 1, 2014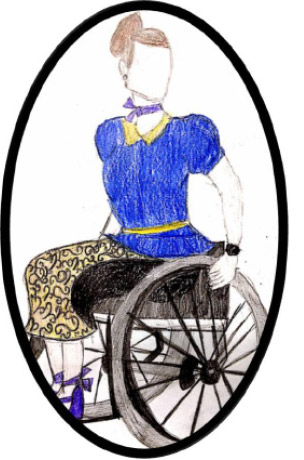 When presented with the challenge of developing a clothing line to meet the needs of people with disabilities and health conditions, sophomore Amanda Smith was a little apprehensive.
"The project seemed very intense," says Smith, who was taking her first class as a product-development major in the Department of Textile and Apparel Management. "The added element of disabilities was extra pressure to produce something amazing."
After she brainstormed with classmates, the ideas began to flow, and excitement and anticipation replaced the feeling of apprehension.
"We fell in love with the project," Smith says. "We became very invested in seeing it be successful."
The concept was developed by Allison Kabel, an assistant professor in the Department of Health Sciences, and Kerri McBee-Black, an instructor in the Department of Textile and Apparel Management (TAM). Kabel had read about a study of patients in health-care settings who were having a hard time advocating for themselves as individuals. The problem: Their identity was threatened when they were wearing hospital gowns.
Kabel began to explore the intersection of apparel and personhood. She reached out to McBee-Black and told her about the idea of a class that would focus on clothing for this specific market.
McBee-Black wanted to get some energy behind the idea right away. Creating a class was not an immediate option, so she proposed working the idea into one of her current classes. Since 2012, McBee-Black has incorporated this project into her Basic Concepts of Apparel Design and Production course.
McBee-Black challenged her students to learn about people with special needs and think about how addressing those needs might translate into clothing design.
"Sometimes even small changes can be made to everyday garments that would make them appeal to more people," Kabel says. "There are so many people who for various reasons can't wear zip-fastened pants, whether it is a sensory issue or they have a catheter or an incision there or they are partially paralyzed after a stroke and the dexterity isn't there for them to do it. That type of pant is off limits, but they aren't going to wear sweatpants to a board meeting or to their daughter's wedding."
A group from the Columbia nonprofit agency Services for Independent Living shared with the students their thoughts on what it is like to live with a disability and what barriers exist in meeting their apparel needs.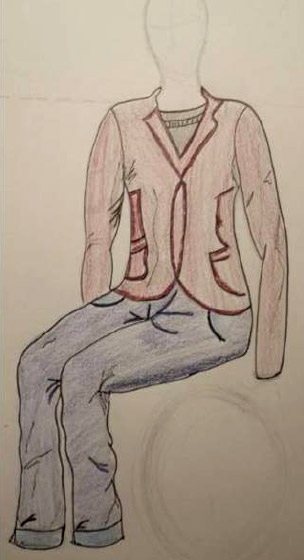 "The students got a chance to see these people who may often be portrayed as patients but are just people who want to live their lives," Kabel says. "I tried to emphasize to the students that they could use their design skills to help someone who is reluctant to get out in the world post-injury or post-stroke. Their designs can help someone gain the confidence they might need to get out and start living their life again."
Students were presented with a variety of special needs and challenged to come up with a line of clothing with those needs in mind. The target market included amputees, people who use wheelchairs, kids with autism and people who use medical devices such as catheters or breathing tubes.
Smith's team designed jackets with extra space underneath the shoulders and arms to make it easier to maneuver a wheelchair. The jackets include zippers underneath the arms and less bulk in the back to improve the wearer's comfort level while sitting.
"All of our designs were made to be very comfortable and easy to take care of, but also very classy and stylish," Smith says. "We realized there was a gap for clothing that is professional and unique, while still meeting the person's needs."
Other concepts for wheelchair users include workplace wear, prom dresses and Halloween costumes that incorporate the chair into the costume.
Sophomore Courtney Buscher designed maternity clothing, including sweaters and cardigans, dresses, skirts and jeans.
"We came up with high-class, functional fashion for pregnant women," Buscher says. "We made both looser and more form-fitting clothing in order to appeal to all consumers."
For children with autism, students designed hooded sweatshirts, the front pockets of which are lined with corduroy that children can rub to calm themselves when necessary.
The target groups considered for the project reached beyond the special-needs market to incorporate caregivers as well.
"People who receive home care often need a care aid to take them somewhere outside of the home," Kabel says. "They don't want to look like patients, but if they are being pushed in a wheelchair by someone wearing scrubs, they look like a patient."

Students designed "Scrubs in Disguise," clothing that has the advantages of scrubs, such as being stain resistant, but looks like regular clothing.
The disability community is diverse, but there is one commonality when it comes to their clothes: People with disabilities want to wear what other people wear. As part of the class, the students are required to do trend forecasting. They study style, color and fabric trends and apply their research to their target markets.
"We really wanted to keep the clothes as close as possible to what other girls their age were wearing," says freshman Elena Ibarra, who was part of a group that designed clothing for young girls with special needs. "We wanted to empower them to feel like the best version of themselves."
Sophomore Jacqueline Wilson's team designed a line of maternity clothing with the motto "as glamorous as a supermodel."
"We really wanted to drill into our target market that they can still feel fabulous and glamorous when they are pregnant," Wilson says. "The clothes we designed really embodied that whole idea."
The students sketch and do flat technical drawings of the apparel. Construction of the product is not part of the class and is not yet incorporated into a future class.
"They are the students' ideas," McBee-Black says. "They could choose to take that and make it a business idea, and I've encouraged them to investigate those possibilities. They could patent an idea or even try creating a company."
Kabel and McBee-Black are conducting research on the topic, and having access to the students' creations aids their project.
"Our research and our teaching embrace each other and support each other," Kabel says. "I feel like I have become a better teacher and researcher by doing this."
They hope to find ways that those barriers can be navigated through universally designed garments.
Kabel and McBee-Black have noticed a shift in the students' excitement about the project.
"At first, they saw it as getting assigned a category, and it is not the most glamorous category," McBee-Black says. "Students have seen the possibilities and are now more energized about this consumer group."
"Starting out, the demographic was a little daunting," Ibarra says. "But I quickly learned how fun and rewarding it was."
The rewards for the students may carry into their future careers.
"I tell the students that what they learn in this class will influence how they approach their designing process when you get into the industry," McBee-Black says. "They may push their company to be more universal in their acceptance because they have this experience."