Published on Sept. 1, 2014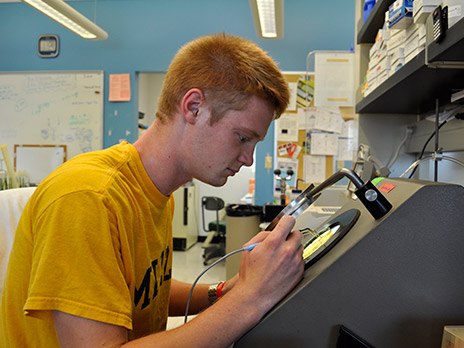 For Conner Rogan, it is the anticipation that keeps bringing him back to the plant science lab on the third floor of the Bond Life Sciences Center.
"For a lot of the experiments that I do, I have to wait a day or two before I can get results," Rogan says. "I love waking up excited to go to work to see the results."
Rogan knew research would be part of his college experience when he came to Mizzou. Thanks to the Freshman Research in Plant Sciences (FRIPS) program, he didn't have to wait long for that experience to begin.
FRIPS is designed to expose new college students to plant biology research, while encouraging participants to consider a research career in that discipline.
"Lab work is part of our efforts to include active learning into the education of our students," says Walter Gassmann, a professor of plant sciences who serves as Rogan's mentor. "Textbooks and lectures only get you so far. When it comes to science, the fun part is in what is not known yet and the process of gaining new knowledge. That can only be learned by doing."
FRIPS is funded through grants from the National Science Foundation and is available for first-year undergraduate students who are majoring in biochemistry, biology, computer sciences or plant sciences. Gassmann, along with biological sciences professor Paula McSteen and plant sciences professor Gary Stacey serve as the principal investigators for the program, which is administered by the Office of Undergraduate Research.
Rogan's lab work focuses on the immune system of plants. As part of his research, he grew and took care of both bacteria and plants, conducted genetics work and developed a mutant plant through plasmid transformation of E. coli.
A biology major from Kirkwood, Mo., Rogan will be a sophomore this fall. He credits his FRIPS experience of last year for helping him secure a summer research fellowship funded by Monsanto through MU's Life Sciences Undergraduate Research Opportunity (LS UROP) program.
Taylor Smith is a plant sciences major and another one of last year's FRIPS participants. Smith spent her summers while in high school pollinating corn as part of a summer job in Princeton, Ill.
"I was fairly undecided going into college in regard to what I wanted to do," Smith says. "Plants have always interested me and the FRIPS program gave me a good introduction into plant research."
Smith works in McSteen's lab studying maize genetics. Her project studies and maps a specific developmental mutant that does not produce an ear.
"Her research will discover more about how corn makes ears which will have a huge impact considering the importance of ears in corn yield and agriculture," McSteen says. "Hence, undergraduate research is real research that makes new discoveries."
It is more than just learning basic lab techniques; students get hands-on experiences to see how research is actually done. They also attend weekly meetings facilitated by a graduate student to discuss topics such as lab skills, safety, research ethics and how science is communicated.
FRIPS can clarify a student's academic career path early on and has proven to be a springboard for many undergraduates looking for a career in research. Students have gone on to internships or experiences with organizations such as the Danforth Plant Sciences Center, Pfizer, Monsanto, Smithsonian Institution, Disney and the United States Forest Service.