Published on Sept. 1, 2014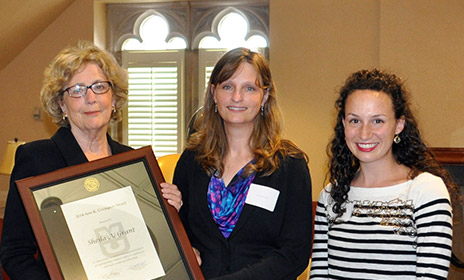 Each year, while Mizzou students are going through the demanding process of applying for nationally competitive fellowships, mentors across campus are playing an important role in assisting those students.
Last spring, Nicole Monnier and Sheila Grant were recognized for their mentoring efforts by being named inaugural recipients of the Ann K. Covington Award. The award recognizes members of the University faculty or staff who have mentored an undergraduate applicant for at least one nationally competitive fellowship.
Students who have applied for nationally competitive scholarships in the past year were able to nominate a mentor for this award.
"There are a number of awards on campus that recognize teaching and advisement," Monnier says, "but the ones that are driven by student nominations are especially meaningful."
Monnier's nominator was Sasha Gubina, an applicant for the Critical Language Scholarship and a recipient of the Boren Scholarship.
"Because of Dr. Monnier," Gubina writes in her nomination letter, "I constantly learn many things relevant to my academic and personal life. I truly feel that Dr. Monnier cares about me, and wants to see me succeed at this university and later in life."
Monnier is an associate teaching professor of Russian and has been at Mizzou since 2000.
"It's an amazing feeling when your student gets the fellowship," Monnier says, "but getting to participate in the process itself, with all of its ups and downs, lets me get to know my students and their aspirations on a much deeper level."
Gubina adds in the nomination: "I always look forward to taking classes with Dr. Monnier because her teaching methods actually make me feel excited to attend class."
In nominating Grant, Claire Spradling calls her mentor "a friend, confidant, professor, principal laboratory investigator and, above all, my greatest source of encouragement."
Grant is a bioengineering professor. She has been at the University of Missouri since 2001 and has had over 100 undergraduate students work in her lab over the last 13 years.
"Our students are wonderful students and I feel I just help them and give them directions," Grant says. "The students deserve the credit for all of their hard work and success."
Two summers ago, Spradling was offered four separate internships across the country. She credits her experience in Grant's lab for leading to those offers. Last summer, Spradling will enter medical school at MU.
"Without her, I would not have the incredible opportunities in front of me that I have now," Spradling's nomination reads. "I am thrilled to be a finalist for a nationally competitive fellowship, and without Dr. Grant's interminable support, I would be lost."
"It is exciting to help students pursue their goals and to help them achieve them," Grant says. "I do all that I can to make sure that they succeed. You cheer for them and you support them."
Covington, the award's namesake, is a member of the UM Board of Curators, a former Missouri Supreme Court chief justice, the first woman to serve on the state's Supreme Court and a long-time champion of the University of Missouri.
"The University of Missouri's student leaders are strengthened and elevated by the commitment of faculty who care about students as persons and invest in them as they seek to better this world," Covington says.