Published on Sept. 1, 2014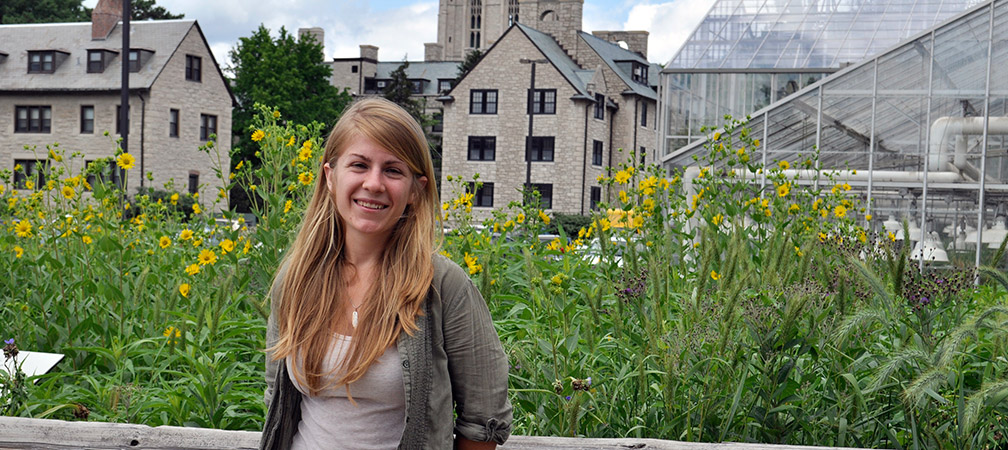 Once a week during the school year, MU senior CC Carson takes a group of fourth graders on a learning experience outside the classroom. Armed with nets and data sheets, the students catch objects out of a creek and record what they find.
If they don't know what they have, they research the item until identification can be made.
At the end of the class, the students develop a scientific poster, which they present and defend during a special symposium.
"A lot of young people don't get that experience," says Carson, a soil science major who grew up in Columbia. "It is new to most of them."
Carson is no stranger to new experiences herself. Last year she became the first undergraduate student ever to be awarded the Prairie Fork Endowment Trust grant, which will allow her to continue her own research.
"Grant writing was a new experience to me," she says. "It was difficult, but it turned out for the best and helped me become a better researcher."
The internship with the fourth graders from Mill Creek Elementary School in Columbia led her to the opportunity to pursue the grant with Prairie Fork.
"It was just luck," Carson says. "I answered Dr. (Candi) Galen's email about this internship opportunity and when I went to her lab, I realized we had very similar research interests."
Carson was interested in researching arbuscular mycorrhizal fungi, which live inside the roots of most land plants. The fungus helps the plants take up water and nutrients, while the plant delivers carbon to the fungus. Research on that topic was already taking place in Galen's lab.
"That was the first time I had heard of anyone around here doing anything like that," Carson says.
She began working with Galen, a professor of biological sciences, and graduate student Alice Tipton. Last fall, Carson decided to develop her own research questions but in order to study those questions, she needed funding. Some money came from the Life Sciences Undergraduate Research Opportunity Program (LS UROP). When more was needed, she discovered the Prairie Fork Endowment Trust.
Prairie Fork Conservation Area is a 711-acre area near Williamsburg, Mo., that was donated to the Missouri Department of Conservation (MDC) in 1997. In keeping with the original intent of the donation, the MDC, the MU School of Natural Resources and the Missouri Prairie Foundation cooperatively manage Prairie Fork Conservation Area for several objectives including encouraging and providing research and educational programs.
For Carson, preparing the grant proposal included meeting with several professors and the owners and land managers of Prairie Fork. She also met with a science editor who helped craft the proposal. She spent most of her winter break finalizing the document.
"I think a big part of receiving the grant was not only having an undergraduate show they are committed to the process, but also the subject matter and how it applied to the goals of Prairie Fork," Carson says.
Her research will include polymerase chain reaction genetic work to identify mycorrhizal diversity. The grant will help fund that work, as well as pay for some lab supplies. It will also help send Carson to the Ecological Society of America conference in Baltimore next summer.