Published on Sept. 1, 2015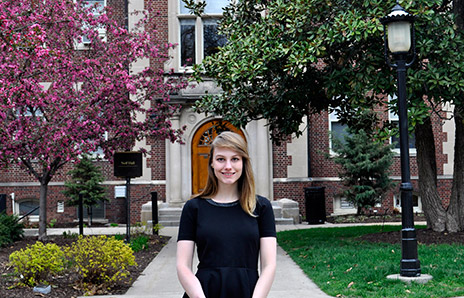 On the day before Spring Break, Jessica Anania was summoned to the office of MU Chancellor R. Bowen Loftin. A few days earlier Anania had interviewed for the Mark Twain Fellowship and she thought the meeting with Loftin was to answer follow-up questions before the final selection was made. However, upon arriving at Loftin's office, the chancellor congratulated her on being the award's recipient.
"It caught me completely off guard," Anania says. "I felt a combination of shock and gratitude."
The Mark Twain Fellowship is an MU-sponsored award that provides support for Mizzou students and recent alumni seeking to pursue graduate study abroad in any discipline. It covers full tuition and fees at a foreign university plus a stipend for living costs and roundtrip transportation.
Anania will work towards a master's degree at Queen's University in Belfast, studying comparative ethnic conflict. She plans to use the degree to work with an international non-government organization investigating, documenting and recording conflict.
Anania is a triple major in journalism (with an emphasis in international reporting), psychology and political science at MU, where she has been able to incorporate all three majors into her study of conflict.