Published on Sept. 1, 2015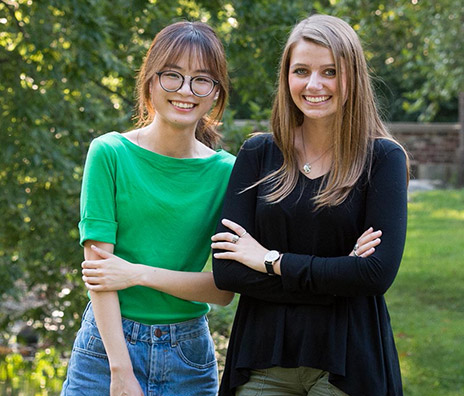 When Meiqi Yuan registered for a 3D Design course, she didn't realize it would involve researching mycorrhizae fungi.
As part of a summer course, Professor Hannah Reeves' students teamed up with undergraduate researchers on a collaborative project in which the researchers discussed their scientific concepts with the art students, who then conceptualized the project into a wood relief.
"I'm not a science person," says Yuan, a communication major who is minoring in arts and information technology. "At the very beginning, I had no idea what I was going to do. I first had to do some research about the science part, then start to transfer that to an idea."
Yuan's partner for the project was Sera Holland, a sophomore environmental science and forestry major. Holland's research examines mycorrhizae fungi, which attach to plants and could potentially help the plants absorb water, improving the likelihood of surviving a drought. In her first meeting with Yuan, Holland emphasized the relationship that the fungi and the plant maintain.
"The symbiosis was really important for her to understand," Holland says. "The plant has to have mycorrhizae to survive and the mycorrhizae must have the plant to survive."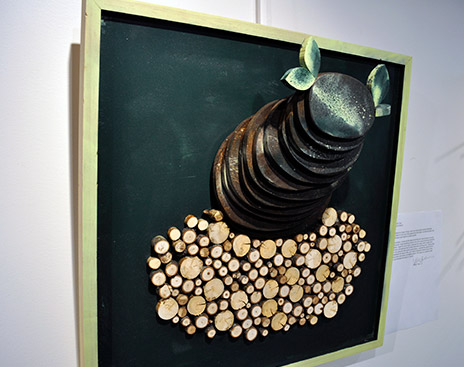 Yuan built a tree trunk with several wood pieces to represent the plant and attached tiny wood logs underneath the tree trunk to represent the fungi supporting the plants' survival.
"I tried to show that natural beauty of the wood and nature since her research is about nature," Yuan says. "The piece as a whole is well balanced and I think indicates the beauty of nature."
She kept the overall tone of the work green to emphasize life.
"Meiqi redesigned her work a few times before landing on the tall stack of segments," Reeves says. "I thought her choice to include live-edge branch cross-sections was quite creative."
Holland agrees: "She nailed it."
Reeves and Director of Undergraduate Research Linda Blockus see this project as an opportunity to put student work on display, all while encouraging collaboration.
"Research involves a great deal of collaboration in the first place," Blockus says. "There are a lot of research opportunities in arts and humanities disciplines, but to be able to partner a student from those areas with a science student on a collaborative project was intriguing."