Published on Sept. 1, 2015
Players on the court at the Special Olympics basketball tournament held at MizzouRec last winter weren't the only athletes attracting attention from the crowd. A cheerleading squad on the sidelines, made up of Special Olympics athletes, was making a debut, thanks to MU student Kelsey Boschert.
Boschert spent her sophomore year establishing, leading and training the team.
A gymnast since age 2, Boschert was a cheerleader throughout high school, and she landed a spot on the Mizzou cheerleading squad as a freshman. While cheering at a women's basketball game, she saw a halftime scrimmage between Special Olympic teams. She talked to a staff member about the possibility of introducing cheerleading to Special Olympics.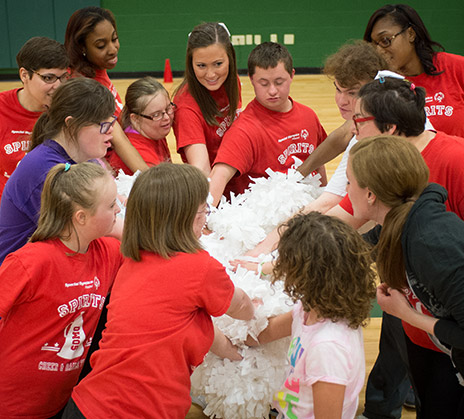 Months of planning led to an introductory clinic and the formation of a squad, with participants ranging in age from 10 to 30.
"They absolutely love it," Boschert says. "They get so excited about using the pompoms. We'll be practicing a dance or a cheer, and when we tell them to grab the pompoms, they take off and run to the bin."
Beginning with Basics
Practices start with the athletes running a couple of laps and stretching before the cheerleading begins.
"We've been practicing a cheer and a dance that we taught at the clinic," Boschert says. "We are adding to those, and it is amazing the improvement we have seen."
In addition to learning cheers and routines, practices include games and something called a "banana cheer"— a repeat-after-me exercise used to raise the energy level of the athletes.
"The cheerleaders all love it because it's super silly," Boschert says. "It is always a good break in the middle of a long practice."
Bringing It
In addition to progress in skills, coordination and teamwork, Boschert has noticed a marked improvement in the athletes' self-assurance.
"They are yelling and dancing and performing for people," she says. "I've really noticed a confidence boost in all of the athletes."
That confidence was on display at the basketball tournament, where the cheerleaders did a cheer and a dance during the opening ceremony and then cheered from the sidelines.
"It was great to see so much enthusiasm both from the athletes and from the crowd," Boschert says. "They all did a great job during their routine. You would never know that it was their first performance."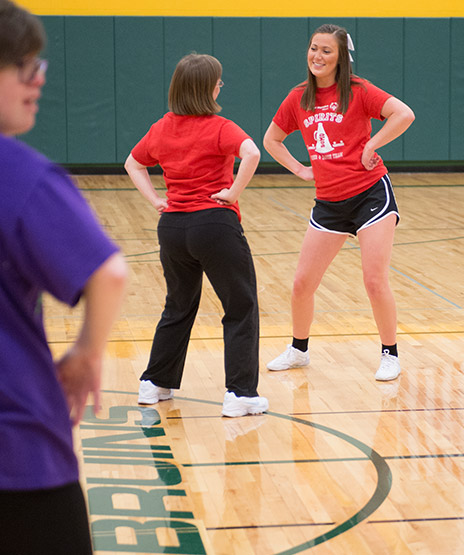 Multiple Talents
Several of cheerleaders also play basketball. In between their games, they would grab their pompoms and cheer while still wearing their basketball uniforms.
"A lot of them are multi-sport athletes, so they are telling their teammates in the other sports about our cheerleading squad and urging them to join," Boschert says.
Boschert hopes to see more cheerleading teams formed. Other states that have multiple Special Olympics cheer squads hold competitions each year. "That would be my dream," Boschert says. "It is probably way in the future, but to have a state competition or a Midwest competition, where teams could all participate, would be great."
Life of Service
Boschert is not the only member of her family involved with Special Olympics. Her brother Christian, a junior at Mizzou, works with Special Olympics athletes in several sports and developed a tennis program in Leawood, Kansas, for people with special needs.
"I went to their tournament in Wichita last summer, and that was a lot of fun," Kelsey Boschert says. "That inspired me to want to do more work with the athletes."
While in high school, Boschert worked at Special Olympics camps and volunteered at a hospital in the Kansas City area, where she worked with special-needs patients. Volunteering and giving back always have been important to her family.
"Our parents encouraged us to use our passions to help other people," Boschert says. "That is a big reason we both started these programs."
Building a Future
Injuries and a heavier course load caused Boschert to leave the Mizzou cheer squad after her freshman year, but her work with the Special Olympics team has allowed her to continue her involvement in the sport.
She is majoring in nutritional sciences and has conducted research with professor Stefan Sarafianos through the Discovery Fellows Program. In the Sarafianos lab, Boschert is studying Hepatitis B and working to develop therapeutics to combat the virus. She serves as an ambassador for the MU Honors College, and her future plans include attending medical school and going into pediatrics.