Published on Sept. 1, 2015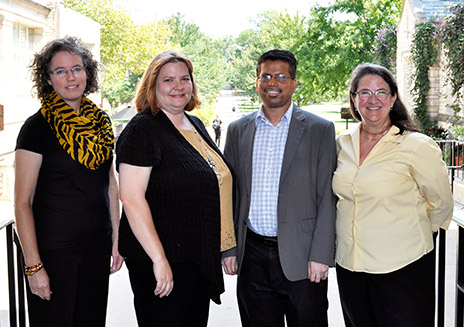 Betsy Baker can't remember a time when she was not using technology as part of her teaching.
"I was teaching second grade in the 1980s," Baker says, "and I brought in my Commodore 64 and used it to work with seven-year-old students."
Baker provided the second-graders with codes which they used to create a wave across the screen, helping them become familiar with what happens if they miss a comma or a space.
Now a professor of literacy studies in MU's College of Education, Baker's use of technology continues. In 2011, she was awarded the Ernest L. Boyer International Award for Excellence in Teaching, beginning a run of Mizzou faculty winning the highly-competitive award in four out of five years.
The Boyer Award is presented to a faculty member who expands the boundaries of teaching, learning and technology in higher education. MU Biological Sciences Associate Professor Sarah Bush is the most recent recipient of the award. She led a redesign of Biology 1010, one of MU's largest general education courses, incorporating new educational technology opportunities into the teaching and learning experience.
"When used effectively, technology can provide tremendously useful tools that facilitate the learning process for students and increase student engagement in the classroom," Bush says.
A change of pace
2014 Boyer Award Honoree Newton D'Souza sees technology as a means and not an end itself.
"Knowing when and why to use technology is critical," says D'Souza, a professor of architectural studies. "It can be disruptive, but it can also be transformative. The key is not to be afraid to experiment and have a pulse on the evolving nature of technology."
"It helps prevent the class from becoming monotonous," says Bethany Stone, an associate professor of biological sciences and the 2012 Boyer Award recipient says. "I never use technology because it is new or shiny. I use technology very specifically to solve certain problems."
For example, when Stone was having trouble getting students to ask questions in her 400-student lecture course she used Google Voice to generate a number for students to text their questions to anonymously, increasing both the quantity and quality of the questions.
"Most importantly," Stone says, "after two or three weeks, students typically stop texting and just start raising their hands because they realize I value their questions and it is faster and easier."
Like Stone, Bush's approach to educational technology is to identify a problem in her course, then explore approaches for solving that problem. "Sometimes technology provides a good solution," she says.
Developing a technology culture
Each year, Mizzou honors faculty and staff with the Excellence in Teaching with Technology Awards. Awardees are nominated in one of four categories: Undergraduate Teaching, Graduate and Professional Teaching, Support Staff and Graduate Instructor/Teaching Assistant. A committee of faculty selects the winners of the faculty awards and determines which of the two will be nominated for the Boyer Award.
"The process is critical," D'Souza says. "MU nomination for the award is very systematic at different levels and rigorous."
Much of the nomination process for the campus faculty award is modeled after the Boyer Award.
"MU has a stringent vetting process to select their nominee," Stone says. "Once that selection is made, I, and probably other past winners, contact the nominee and offer help in creating or reviewing their nomination packet before it is submitted. The Boyer Award provides a rubric for how they are going to judge the nomination packet, and we make a point to address all the items in the rubric. I think this tremendous effort has increased our success in winning the award."
While the nomination and vetting process has played a role in MU's success with the Boyer Award, Danna Vessell, director of Educational Technologies at Missouri (ET@MO), points to a movement on campus toward good teaching with technology as a key factor.
"There is a strong community around teaching with technology on our campus," Vessel says. "The use of technology is part of the conversation about teaching on our campus."
Founded in 1999 when the challenge was just to convince faculty to start teaching online, ET@MO now supports all faculty who want to be innovative in their teaching.
"We help faculty understand that it is not about the technology," Vessell says. "It is about the teaching and what you can do with technology."
Bush believes that MU has more faculty who are qualified for the Boyer Award than other campuses because of the support and encouragement for using technology in an effective manner.
"ET@MO starts by asking instructors what they want to accomplish," Baker says. "Then, they go and find technology to help you accomplish it."
"The faculty recognize that technology can aid their teaching and provide innovative ways for engagement," says David Reid, associate director of ET@MO. "For us, the best part has been the shift beyond faculty just using technology to faculty wanting to use technology to add something new to their course."
New meaning of literacy
For Baker, a professor of literacy, being able to properly use technology is a requirement for one to be literate. Therefore, using technology in her teaching is more than just a way to improve the classroom experience.
"What it means to be literate or being able to read and write has changed as our culture has changed," she says. "If literacy changes as culture changes and our culture is now technological, then what is literacy?"
Literacy, Baker points out, has become equated with the ability to communicate.
"You have no longer done your job to teach children to read and write the alphabet," Baker says. "Unless they can embed media, they are not literate any more. You need to know how to shoot a really good Vine video, know how to edit it, what angles to use, what music to include—all of that become acts of literacy."
Enhanced learning
Mizzou's troupe of Boyer Award winners have been recognized for using technology in a variety of ways.
Stone implemented technology into her classes as a way to free up class time and increase the interactive learning that takes place in the classroom. Similarly, D'Souza uses a seminar style format to challenge his students to think critically and foster more interaction between online and on-campus students. Using multi-screen technology and individual webcams on each computer, online students are able to interact with everyone in the class.
Bush found that clickers provide opportunities for student to offer feedback to her and to other students about how well they understand the course concepts, while SimUText online labs and interactive readings allow students to visualize ecological and evolutionary processes in ways that could not be accomplished in a lecture. In addition, interactivity in high-enrollment courses is enhanced through discussion boards and cooperative quizzes.
As part of the nomination for the MU Excellence in Teaching with Technology Award, nominees must assemble a large portfolio with evidence of teaching effectiveness.
"We present strong empirical data to back-up the success of our courses," D'Souza says.
In end-of-the semester evaluations, D'Souza's students reported the use of technology helped connect them with others in the class. This was especially true for online students who felt more connected to the university.
Stone had similar findings. "Not only did students think they were learning more," she says. "but they actually were learning more and using higher-level critical thinking skills more than my previous classes."
Stone was told by a Boyer Award judge that not only was the selection committee impressed by her use of technology, but her research to measure the effectiveness of her use of technology set her apart from the competition.
Several factors contribute to Mizzou's success with the Boyer Award. However, the nominees, according to Reid, deserve the credit.
"Our nominees are fantastic teachers, first and foremost," Reid says. "That's the primary reason for the success we have seen."