Published on Sept. 1, 2015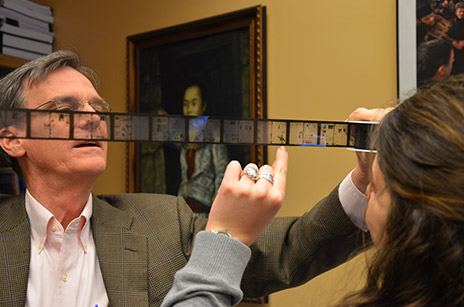 Berkley Hudson, a professor in the School of Journalism, recognizes some faculty would rather have a graduate or doctoral student assist with research projects. Hudson understands that, but has found undergraduates provide valuable assistance.
"I've had freshman students who have been as competent, as engaged, as open to the excitement of scholarship and learning as some doctoral students who I've worked with," he says.
In 2011, Hudson worked with two other principal investigators on the "Print for the People" symposium and the "The Future of Archives in an Electronic Age." Keynote speakers were MacArthur Fellow Robert Darnton, head of Harvard University's Libraries, and William Ferris, former chairman of the National Endowment for Humanities. Later as part of the same project, the former head of the American Folklife Center of the Library of Congress visited MU.
He also worked with Spanish Professor Juanamaria Cordones-Cook on Mizzou Advantage's "Ediciones Vigía, An Aesthetics of Bricolage," which focused on Cuba's thriving cultural, artistic and publishing world. Now, he is assisting Cordones-Cook with "Afro-Cuban Artists: A Renaissance," a symposium scheduled for next April.
Hudson's undergraduate researchers, some who were Discovery Fellows, have helped with those projects. Hudson's assistants have had the opportunity to meet MacArthur Fellows, Guggenheim Fellows and the top people in their fields during these projects. Undergraduates have also worked with Hudson on his research of media history by writing book chapters, revising journal articles, writing grants and working on Hudson's historic photographic exhibition project.
"I've been very fortunate that I've had intellectually bright, socially integrated and emotionally intelligent undergraduate research assistants who have helped me do things I could not have done," he says. "They've helped me do it more quickly and they've brought insights into what I was doing that I would not otherwise have had, in part because of the generational difference."
One of his research assistants, Ginger Hervey, says she has learned a lot of skills—writing, transcribing, being organized and staying focused—while working with Hudson.
"What research has helped me most with is motivation," Hervey says. "I've gotten to know a professor in my field really well and been inspired by the work that he has done. Working with Dr. Hudson reminds me of a lot of the important and interesting things that journalism can be."
Hervey does not know if she wants to go into academia or do research in the future, but this experience has given her a head start into what that work would look like.
"I've actually seen how much work goes into a master's thesis and been able to read through and edit some of them with Dr. Hudson," she says. "I've been through the process of submitting pieces to literary journals and I've learned how to write grant proposals. As an undergraduate, not many students get that opportunity."
Hervey has been assisting Hudson with a National Endowment for Humanities planning grant, "Possum Town: Pictures of a Place in the American South." This grant is to plan for symposia and a traveling exhibition of 55-75 large format photographs, a website and related public and scholarly programming that examine the lives of blacks and whites in the rural, racially-segregated community of Columbus, Mississippi.
Hervey recently won two awards for her work with Hudson—one as an Honors College Outstanding Sophomore Discovery Fellow and another in the Humanities category for the Undergraduate Research & Creative Achievements Forum Awards.
Hudson, who was named a Kemper Fellow in 2015, says that not every student-faculty match is going to be picture-perfect, but most of the time it does work.