Published on Sept. 1, 2015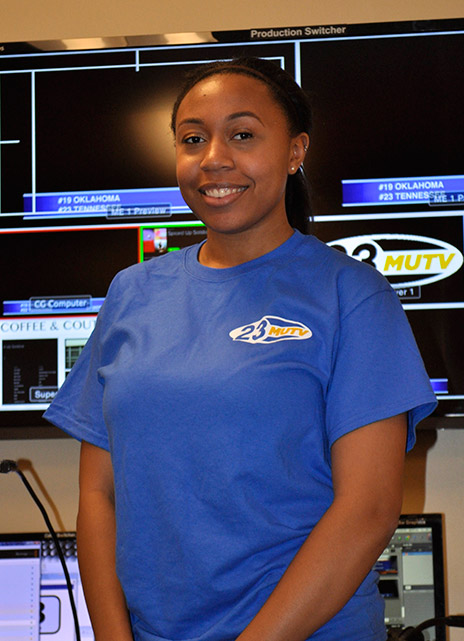 As a student at McCluer High School in Florissant, Missouri, MU sophomore Olivia Rivers was an accomplished student, athlete and leader. She was elected president of the National Honor Society, served as vice president of Future Business Leaders of America and played both tennis and golf. She also attended the Missouri Scholars Academy and participated in the Missouri Girls State program.
Despite her achievements, she was not sure if she would be able to attend college. One detail stood in the way: the cost of tuition.
Although she was concerned about having to take out extensive loans and possibly having to work multiple jobs to pay for her education, Rivers applied to MU. While searching for sources of financial aid, Rivers discovered the Dr. Donald M. Suggs Scholarship.
"I applied for the scholarship initially thinking there was no way I was going to get it," Rivers says. "But I decided to apply for it anyway and see what would happen."
The Suggs Scholarship was developed to improve enrollment and retention rates of gifted undergraduate students from ethnic groups who are commonly underrepresented at universities and colleges. Named in honor of newspaper publisher, surgeon and community leader Donald M. Suggs, the scholarship offers recipients $12,500 per year. Applicants from the greater St. Louis, Missouri area are given first preference.
Mizzou partners with the St. Louis American Foundation to provide the scholarship. The foundation provides thousands of dollars of scholarships for minority students each year.
After submitting the transcripts, test scores and essays required for consideration, Rivers was selected to receive the scholarship.
"I remember the moment I found out I got it," Rivers says. "It was like a godsend moment. I kept thinking that I could go to school and I could stop stressing out about how I was going to pay tuition. That was a big weight off my shoulders."
In addition to paying for her tuition, the Suggs Scholarship provides up to $7,000 for a study abroad experience. Although Rivers has never flown before, she looks forward to spending a semester in the United Kingdom where she can experience the music, fashion and culture that interests her.
At Mizzou, Rivers is able to immerse herself in the abundance of activities and organizations the university offers because she does not have to spend time working to pay for her education.
"There is so much you can do here, and there are so many opportunities," Rivers says. "There's something for everyone, and there are tons of chances to try new things you haven't tried before."
Rivers spends much of her time at the student-led television station MUTV, where she serves as a director. She also enjoys promoting the station and working to attract viewers. Although she is a marketing major, Rivers has a passion for journalism and envisions conducting and managing promotions for a television news station after she graduates.
"It's really interesting how marketing and advertising can shape behavioral patterns and how it affects everyone every single day," Rivers says.
Rivers is also involved in business fraternity Phi Beta Lambda and the Student Center for the Public Trust, which is an organization dedicated to promoting ethical thinking and leadership in the workplace.
"It's just so great that I can really focus on my classes and getting involved rather than having to work multiple jobs," Rivers says. "These organizations are helping to prepare me for my future."
Donald M. Suggs
Donald Suggs served as chief of oral surgery at Dover Air Force Base in Delaware and was the first African-American to serve as an associate clinical professor at St. Louis University Dental School. He maintained a limited private practice in his specialty before retiring in 2011. Active in the civil rights movement in the 1960's and 70's, he served as chairman of the Poor People's March-On-Washington in 1968. Later, he became founder and chairman of the African Continuum, organized to bring serious non-commercial African-American artistic endeavors to St. Louis. He currently serves on the St. Louis Art Museum Board of Commissioners and its Collections Committee. He was the first African-American to serve as president of the Convention and Visitors Bureau of St. Louis. Suggs is publisher and executive editor of the St. Louis American newspaper, which operates the St. Louis American Foundation.