Published on Sept. 1, 2016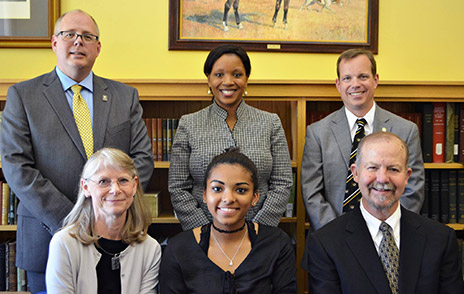 Toward the end of Maya Hill's senior year at The Pembroke Hill School, the Kansas City native's father called to ask her to meet him in the school's library. As she entered the room she was unexpectedly greeted not only by her father, but also by several of her former teachers, her academic adviser, family members, friends and representatives from the MU Honors College.
The surprise party was orchestrated to celebrate Hill's selection as this year's recipient of the Brazeal Honors College Endowed Diversity Scholarship.
Each year, the Brazeal Scholarship offers one incoming freshman funding for up to eight semesters, as well as a year-long research opportunity through Discovery Fellows and a study abroad experience.
"I interviewed for both the Brooks and Brazeal Scholarships at the same time, sent in the essay component for the Brazeal Scholarship, and then just waited," Hill says.
The waiting paid off, and Hill was announced as the 2016 Brazeal Scholar, which solidified her decision to attend MU to study sociology.
"I just kind of knew in that moment that I was going to Mizzou," Hill recalls. "It made the most sense financially and academically. The Brazeal Scholarship allowed me to do everything I wanted to do with research and study abroad and college in general. After talking to [Honors College Director] Dr. [J.D] Bowers, I knew I could find like-minded people here at Mizzou."
The Brazeal Scholarship Fund was set up in 2004 by MU alumni Jim and Cathy Brazeal to attract high achieving, diverse, and underrepresented minority students to the University of Missouri. The scholarship specifically focuses on bringing in accomplished African-American students. Aside from funding tuition, research and study abroad opportunities, the Brazeals also get to know the recipients on a personal level over group meals, conversations and friendly visits.
"I want to thank the Brazeals for being so generous and for taking a chance on me," Hill says. "I hope I can do [them] proud; I'll definitely try."
Hill is already well on the path of making those around her proud. She has a dream of going to law school to become a criminal defense attorney and is enrolled in classes that will put her on track to graduate in 2020 with a degree in sociology.
"When I was seven years old I decided I wanted to help people, and then I saw the movie "Legally Blonde" and I figured that was the best way to use my talents of arguing," Hill says, flashing a bright smile. "I continued that in high school through Youth Corps and Youth and Government."
Hill plans to keep working toward her goal while taking full advantage of the Brazeal Scholarship's research component through the Discovery Fellows program. Discovery Fellows is a program run through the Honors College that gives freshmen and sophomores a chance to jump directly into hands-on research with faculty members. This year Hill will perform sociology-based research with MU sociology professor Wayne Brekhus.
"I've never done research before, so he's taking me step-by-step through what I want to research, where I want to research, gathering the data, guiding me through the entire process because he's done this a million times," Hill says. "Right now it's still pretty open. We've yet to zero in on a topic, but it will probably be within the sexuality and gender identity realm of sociology."
Looking to the future, Hill plans to take advantage of the study abroad experience the Brazeal Scholarship will cover.
"I've studied French since the fourth grade and I've always wanted to go to Europe so that's the plan right now," Hill says. "I want to go to England or France and study there for either a summer or a semester."
As Hill's college journey begins to unfold, she looks forward to all that the Brazeal Scholarship will do to shape and enhance her four years at MU. While the research and study abroad opportunities excite her, so does the simple opportunity to spend time with the three other Brazeal Scholars currently on campus.
"None of us are in the same major," Hill says, "but we are all doing the same thing: doing research and pursuing our dreams through this scholarship."