Published on Sept. 1, 2016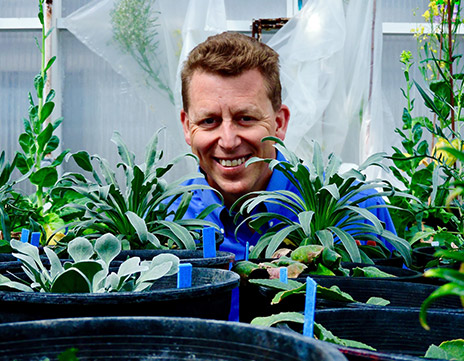 After 11 years of teaching, Chris Pires, associate professor in MU's Division of Biological Sciences, says his most rewarding experience has been mentoring dozens of undergraduate students.
Since 2005, Pires has mentored 30 undergraduates in his lab, which studies plant evolutionary biology. Pires meets individually with each student weekly to offer advice and encouragement.
"My intentions as a mentor are to provide students with a foundation of fundamental concepts and critical thinking skills while also cultivating a curiosity of the living world," Pires says. "My primary aim is to create an environment that motivates students to construct and communicate their own knowledge."
Pires sees himself as a facilitator who guides students in creating a playbook for their success. He encourages students to divide their playbooks into three parts. The first part helps students develop themselves by finding what they are passionate about, exploring their personalities and identifying their dream careers. The second section encourages students to assemble a team they can collaborate with to reach their goals, and the third part assists students in developing their expertise.
"We all need guidance," Pires says. "You can be smart, ambitious, hard-working and a great communicator, but where do you start? What is the best strategy to identify your goals and to achieve them? These are things not learned in a classroom. We all need a playbook to succeed that we co-develop with people more experienced than ourselves."
Students in Pires' lab have presented work at national conferences and meetings, had research projects published in peer-reviewed journals, attended graduate school and taken positions with biotechnology companies. In 2016, two undergraduates who conducted research in Pires' lab received National Science Foundation (NSF) Graduate Research Fellowship Program grants. The fellowship recognizes and supports outstanding students who are pursuing masters and doctoral degrees in STEM fields.
"While postdoctoral and graduate students are already on a focused path to success, undergraduates usually have a lot more uncertainty about their futures," Pires says. "There is an amazing opportunity to have a big impact on their lives, and I get great satisfaction in helping them to identify and achieve their goals."
August 2016 graduate Kevin Bird was a biology and philosophy major mentored by Pires for three years. Bird was one of the 14 MU students and alumni who earned a NSF Graduate Research Fellowship Program grant. Pires encouraged Bird to take graduate courses as early as his sophomore year and taught him how to build strong applications for nationally-competitive fellowships.
"I am absolutely convinced that he lives and breathes to help each of his students succeed and achieve whatever goals they have," Bird says. "Chris is able to maintain a perfect balance of hands-on mentoring and letting his students be independent enough to really learn how to be a scientist."
Pires' impact on him led Bird to nominate Pires for the Ann K. Covington Award for Mentoring. The award is given annually by the MU Fellowships Office and recognizes MU faculty and staff who have mentored an undergraduate applicant for at least one nationally-competitive fellowship. Pires was selected as one of two award recipients. He added that to his growing list of awards that recognize his mentoring efforts. He is the only faculty member to win the Outstanding Undergraduate Research Mentor Award twice, claiming in it 2008 and 2013.
In addition to mentoring students, Pires also conducts his own research. He studies the evolution of plants by examining their genetic development over millions of years. In 2015, he became one of Thomson Reuters' Highly Cited Researchers, which is a list recognizing leading researchers in science and social science from around the world. The rankings are based on how often scientific papers published in the last decade are cited in newly published research.