Published on Sept. 1, 2016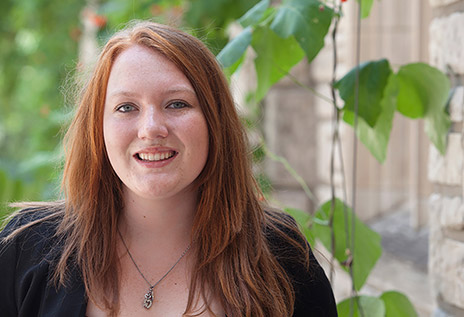 When Samantha Franks was notified of her selection for a grant from the Fulbright U.S. Student Program her emotions ranged from relief to disbelief.
"I made my roommate read everything Fulbright sent me to make sure that it was actually real and happening," she says. "It's such a long process that, by the time you find out, you're on the edge of your nerves."
Mizzou had a record 31 students and recent alumni apply for Fulbright grants last year. Franks was one of eight MU students who were initially selected for a grant, while three others were named alternates. Two of those alternates were upgraded to selected status, setting a new MU record with 10 Fulbright selections.
Franks, who is from Nixa, Missouri, graduated from MU in May with degrees in English and political science.
"Most of what I've taken from the fellowship process is that you have to know where you want to go," Franks says. "You may not know how you're getting there, but you need to be really aware of what you love and how you want to work in that field."
Franks will pursue a Master's degree in Peace Building and Conflict Prevention from Durham University in England. Her long-term plans include law school and then a career in government.
Like Franks, Kevin Bird felt a sense of relief upon learning he had been selected for a Fulbright research grant.
"Receiving the acceptance notice from Fulbright washed all the tension and anxiety away," says Bird, a biology and philosophy major from Osage Beach, Missouri. He will conduct research in Belgium this year.
"I want to make a valuable connection to an international group that is leading the frontiers of biological research," Bird says. "I will get to be involved in a unique exchange of ideas, bringing to them my experiences and taking from them a one-of-a-kind skill set."
Alexandra Baumhardt is a 2013 graduate of MU's School of Journalism. She will use her Fulbright grant in Spain, studying the making of short films, documentaries and photography.
Graduate student Travis Eakin also earned a Fulbright grant and will conduct research in Germany.
Six MU students earned English Teaching Assistantships (ETA) through the Fulbright program including, Erica Eisenberg, who will teach in Colombia. A communication major, Eisenberg became increasingly interested in language and culture during a previous trip to South America.
"Seeing how language and culture inform the human experience fascinated me and enriched my life greatly," Eisenberg says. "Beyond the obvious excitement of living in a new place, I know that this year will be very formative in my life. After this year, I hope to have a clearer sense of how to piece my passions together to build a fulfilling career."
Similar to Eisenberg, prior study abroad trips persuaded Kaitlyn Erehart and Makenna Schrader to pursue Fulbright ETAs. After studying in South Korea, Erehart was interested in returning as a teacher.
"Fulbright really intrigued me as a way to gain more experience teaching English-language learners," Erehart says. "I was additionally interested in returning to South Korea to learn about its education system and about the country's initiative to promote positive mental health in young students."
For Schrader, it was her time studying in Spain that influenced her application for an ETA.
"I am most looking forward to immersing myself in the Spanish culture and learning as much from my students as they are learning from me," Schrader says.
Josh Gilmer, who like Franks is from Nixa, Missouri, and Emily Wiechmann were selected for ETAs to teach in Russia and Kazakhstan, respectively. Rachel Newman was selected for a Fulbright ETA, but declined in order to take a full-time position in Brandeis University's English Language Program for international students.
In addition, Haley Myers was named an alternate for a study grant to the UK. Evan Townsend, a 2014 graduate of Mizzou, applied at-large and was selected as an ETA to Kenya.
The Fulbright Program is the flagship international educational exchange program sponsored by the U.S. government and is designed to increase mutual understanding between the people of the United States and the people of other countries. Recipients of Fulbright grants are selected on the basis of academic or professional achievement, as well as demonstrated leadership potential in their fields.