Published on Sept. 1, 2016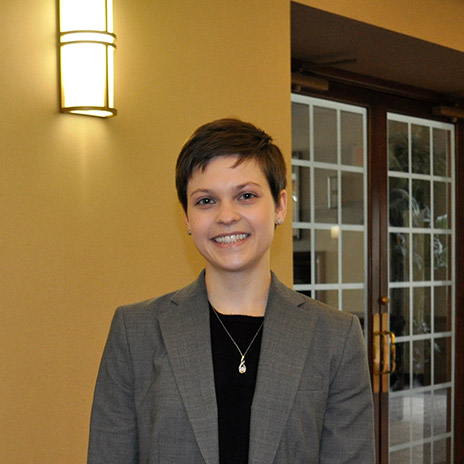 It was the Friday before Spring Break when Helen Bass was summoned to a meeting with the Office of Service-Learning staff. Awaiting her arrival to the second floor of Lowry Hall were MU Interim Chancellor Hank Foley, College of Arts & Science Dean Michael O'Brien and Professor of Economics Jeff Milyo. They were there to make a special announcement: Bass had been selected to receive the Mark Twain Fellowship.
"This sounds cliché, but I thought I must be dreaming," Bass says about surprise announcement. "The idea that I was actually going to go study in Reading, England, didn't sink in. I don't think it will really sink in until I get there and start studying."
The Mark Twain Fellowship is an MU-sponsored award that provides support for Mizzou students and recent alumni seeking to pursue graduate study abroad in any discipline. It covers full tuition and fees at a foreign university plus a stipend for living costs and roundtrip transportation.
Bass had applied for a Fulbright Scholarship because she was interested in the law contract program at Reading University in England. Although she did not receive the Fulbright, she proved a perfect fit for the Mark Twain Fellowship.
Students who apply for a Rhodes, Marshall, Mitchell, Fulbright, Gates Cambridge, National Science Foundation, Churchill or a comparable nationally-recognized fellowship program, but are not selected, may apply for the Mark Twain Award.
"I am just very grateful to be given an opportunity that I never thought I would have."

—Helen Bass
"I'm interested in economics and law," Bass says. "Economics is a different application and different view of law that I am interested in."
Bass, who graduated from Staley High School in Kansas City, came to MU because of the opportunities offered at the university. "I studied a little bit of everything at Mizzou," she says.
She spent a semester studying in Buenos Aires and worked in the Columbia office of U.S. Senator Claire McCaskill. She also interned at the Missouri State Capitol in the Office of the Secretary of State, which gave her a glimpse into the inner working of government.
"It's been interesting to be taken out of the academic setting to see how people make decisions in the legislature," Bass says.
Before graduating last May, she completed an honors thesis examining the different selection systems for judges in the state courts. "I'm trying to understand how the different selection systems affect the diversity of judges," Bass says.
After her year in Reading, Bass plans to return to the U.S. to pursue a law degree. For now, her focus is on the experiences that are forthcoming while in England.
"I am just very grateful to be given an opportunity that I never thought I would have," Bass says.