Published on Nov. 8, 2017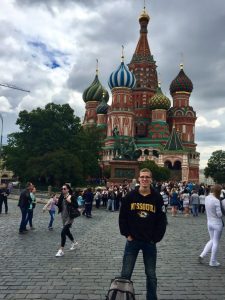 As an awardee of the 2017 U.S. Department of State Critical Language Scholarship, University of Missouri junior Jacob Waldinger spent the summer studying Russian in Nizhny Novgorod, Russia.
For eight weeks, Waldinger and 27 other American students from institutions across the United States participated in intensive Russian courses at Lobachevsky State University.
"One of the highlights of my time in Russia was learning about a region of the world that we hear so much of in the news, while very few people have actual experience with the country and its people," Waldinger says. "Having been there and talked directly with actual Russians about a multitude of topics, I feel as if this far off land known as Russia isn't actually as different as people may think."
Waldinger and his fellow CLS program participants lived with local Russian-speaking host families and met regularly with local peers to learn more about the Russian language and develop their personal networks. The group engaged in cultural excursions, lectures and other enrichment activities designed to support and enhance language learning and exposure to the host culture.
During one excursion this summer, CLS students had the opportunity to visit SIBUR, a Russian petrochemicals company, and learn about the administration of the plant with hands-on demonstrations and a Russian-language tour of the facilities.
With over 150 million native speakers, Russian continues to be one of the most in-demand languages among employers in both the public and private sectors due to its international relevance and unique versatility.
"From this experience, I will take away a greater appreciation for my Russian language studies at MU," Waldinger says. "It is weird to think that what I learned in a small classroom in Strickland Hall for two years was able to help me live in another country where nobody spoke my native language."
The CLS program is part of a U.S. government effort to expand the number of Americans studying and mastering critical foreign languages. In 2017, 555 American students representing 217 colleges and universities across the United States were selected from over 5,000 applicants to receive a CLS award