Published on Nov. 8, 2017
Senior Tiana Glass has passions for business, justice, and bringing the two together for the betterment of her community. These came to life this semester as she opened her own store, Black Honeybee Cosmetics, which is located in the MU Student Center.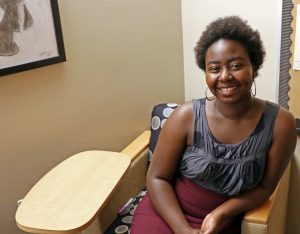 Each year the Missouri Student Unions Entrepreneurial Program supports student entrepreneurship by awarding space in the Student Center to house selected student-run businesses.
Glass' store sells handmade vegan bath and body products such as bath bombs, lotion bars, bubble bars and shower gels. Every product is named after a famous person of color or an aspect of black culture. For Glass, it is an opportunity to do justice for women of color who do not often see themselves represented in beauty or clothing lines.
"I'm really looking forward to women of color feeling validated and seen, as well as the business growing," Glass says. "I'm from Ferguson, (Missouri), and this business exists because of Ferguson. My main goal is to help my community through this business by bringing black businesses back to (the area)."
Glass came up with the idea for the store about a year and a half ago. She began her studies at Mizzou as a journalism major, but has since switched to Women's and Gender Studies. Glass discovered a love for feminism and social justice issues after becoming involved with the Women's Center and the Multicultural Center on campus.
"I found feminism and I found social justice, and that literally turned my world upside down," Glass says. "I felt like even in magazine journalism, what I really wanted to do was social justice."
Glass is now an intern and social justice advocator at the Women's Center, where she started working as a freshman. She helps plan events and educational programs to get people involved and learn about the dynamics of privilege and power. Glass says that she would not be who she is today, and may not be at Mizzou, without both the Women's' Center and the Multicultural Center.
"I wouldn't be here without them because they offer so much support and education," Glass says. "It wasn't until I found the Women's Center and the Gender Studies department that I could be the person I wanted to be."
Glass is also involved in MU's Center for Academic Success & Excellence (CASE). CASE exists to provide students with support services and campus resources to promote academic success and persistence, financial literacy, and a sense of belonging and overall wellness. CASE Director Donell Young has worked with Glass since her start at MU.
"I enjoy helping students develop successful strategies that assist them in navigating the university," Young says. "Tiana has donated countless hours of her time to the MU community in an effort to educate the community in regards to cultural awareness and social justice."
"I wouldn't be here without them because they offer so much support and education. It wasn't until I found the Women's Center and the Gender Studies department that I could be the person I wanted to be."

—Tiana Glass
Glass is also a Diversity Award Scholar and a member of LSV, a secret women's honor society dedicated to promoting and improving the status of women.
All of Glass's involvement has come together in the creation of Black Honeybee Cosmetics. The store opened in early October thanks to the help from student volunteers, who Glass calls her worker bees.
"I think it's so important that you find your community and the people who support you, and keep them close by," she says. "If you have that community, no one can ever stop you. Those people ground me, uplift me and correct me when I'm wrong, and I'm a better person because of it."
Glass graduates in December and is in the process of applying to graduate school. She is looking into public health programs to continue her research with women of color, environmental justice and health programs. She hopes to start other businesses, while continuing to strive for justice for people in her community.