Published on Nov. 8, 2017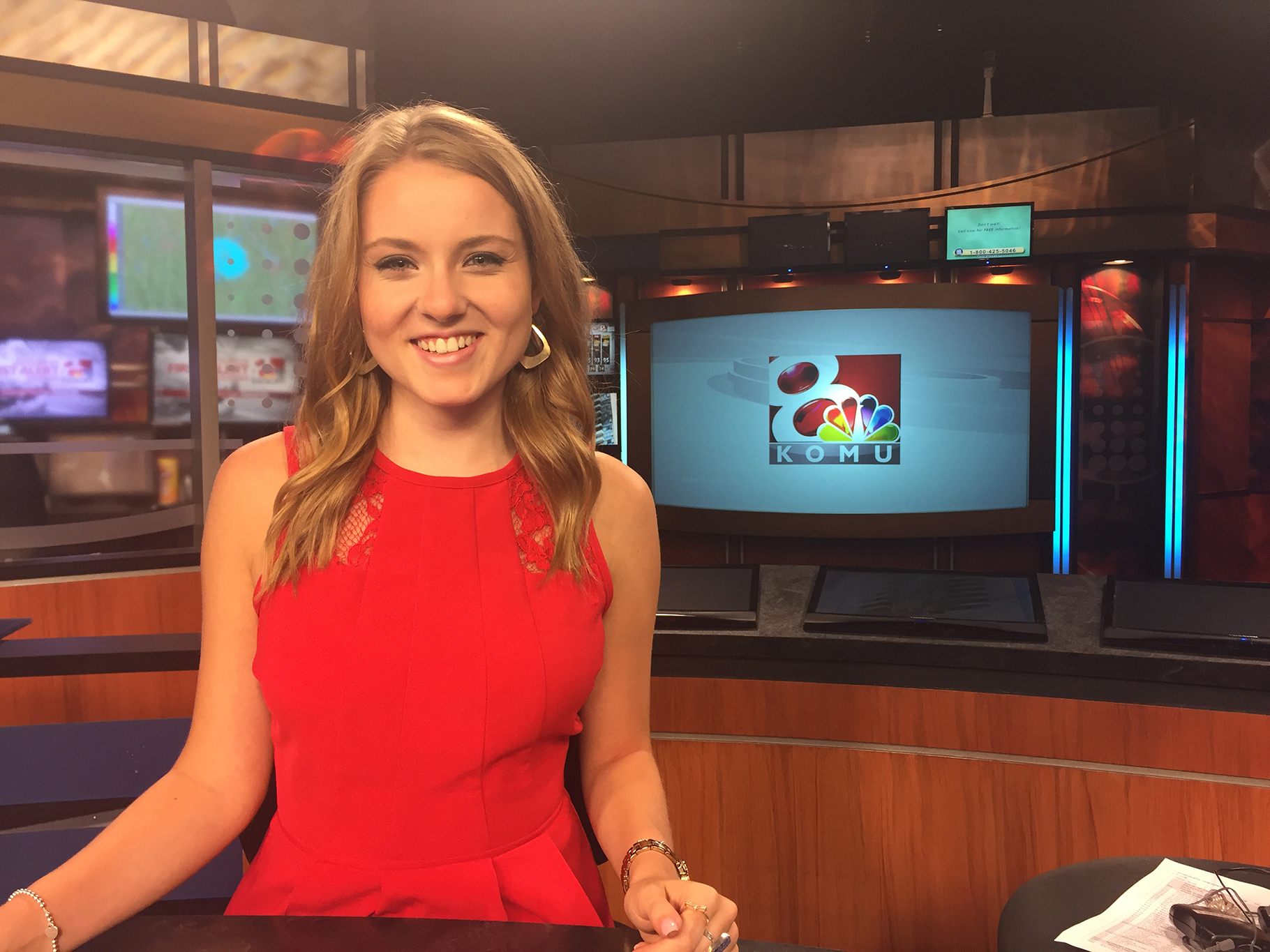 By day, senior Tyler Emery is a typical college student; she attends class, participates in extracurricular activities and spends time with her friends. By night, she is a professional news anchor for Columbia's NBC a liate, KOMU.
On weekday evenings, Emery's face appears on television sets across mid-Missouri as she broadcasts the news live to 40,000 viewers in 15 counties.
Her dream to be a television broadcaster was born in middle school when her teacher picked her at random to read her school's rst video announcements. From there, she joined her high school's broadcast program, and in 2014, she left her hometown of Northbrook, Illinois, to begin her journalism education at MU.
Emery, an honors student at MU, has embraced the School of Journalism's world renowned Missouri Method of learning by doing. KOMU is a university-owned television station that employs both students working toward careers in broadcast journalism and experienced professionals. Students take on many of the smaller anchoring and reporting duties, but the evening news anchor roles are traditionally reserved for seasoned professionals. That changed this fall when Emery's skill set, talent and years of hard work landed her the job as an undergraduate.
"The opportunity just kind of came along," Emery says. "Getting this professional experience before I've even graduated is an opportunity I'm so thankful and honored to have. Not many students in the country can say they've already gotten a chance to anchor in a professional setting."
While the new role is a welcome and exciting step for Emery, it also means she must balance life as both a working professional and a college student. After a morning of classes on campus, she races to the station to prepare for the evening newscast.
"I get to work around 2:45 p.m. and start by doing my makeup for the cameras," Emery says. "Then I turn on my curling iron and sit down to read the news of the day so that I know the names and the facts. After that, I start reading my scripts for the 5 p.m. show and go story by story looking for things like spelling errors, grammatical errors and other things that could mess me up on air."
After the preparation process, she transitions to the studio desk for microphone and camera checks before the show begins. On Monday evenings, Emery goes through this process four times, as she anchors the 5, 6, 9, and 10 p.m. shows. Tuesday through Thursday she anchors the 5 and 6 p.m. newscasts.
Emery does not mind the crazy schedule; in fact, she is used to it. Between leading service trips for Mizzou Alternative Breaks, being a member of Chi Omega and Omricon Delta Kappa, holding an executive position for the organization Rockin' Against Multiple Sclerosis (RAMS) and representing the Honors College as a student ambassador, she has become an expert at time management and organization.
"There are constantly so many things that can happen, go wrong or change, and you have to be on your toes and ready for anything at any point in the newscast."

—Tyler Emery
Beyond her extracurricular activities, Emery works as a producer and anchor at Newsy, an online video news network based in Columbia that produces short-form digital pieces about events around the world.
The extra experience helps Emery prepare for the challenges that come her way in the fast-paced broadcast world.
"There are constantly so many things that can happen, go wrong or change, and you have to be on your toes and ready for anything at any point in the newscast," Emery says.
Despite the occasional microphone mishap, live feed crash or accidental camera change, Emery enjoys working both in front of and behind the camera.
"The most rewarding part of it is getting to work with the people," Emery says. "I love being able to interact with our weathercasters, our producers, our directors and everyone else. It's a very centralized role because at the end of the day I'm the one putting out the nal product to the viewers that everyone worked so hard on all day."
Her career goal is to become a national news anchor.
"That would be the dream," she says. "But it's a long road to get there. I see that and I have that goal, but I want to look right now at what my next step is so that I can one day get there."