Published on Nov. 8, 2017
MU alumni Kyler Cliffman and Hannah Cleeton are both field representatives in Columbia for members of the United States Congress. How did they get there? For both of them, it started with the Civic Leaders Internship Program (CLIP) and the MU Office of Service-Learning.
"There would be no chance that I would be where I am without the CLIP program," Cliffman says. "The people that you meet and the experiences that you have, you really can't beat it."
CLIP supports undergraduate students who serve internships in publicly funded offices at the state and national levels.
Born and raised in Nevada, Missouri, Cliffman broke the chain of five generations of farmers when he joined the CLIP program and ultimately started working for Rep. Vicky Hartzler. Although agriculture is important to him, politics has been Cliffman's passion since high school.
After arriving at MU and connecting with the Office of Service-Learning, Cliffman interned at the Missouri State Capitol with former State Senator David Pearce.
"This (internship with Sen. Pearce) furthered my interest in politics and got my foot in the door," Cliffman says. "Working with Sen. Pearce and his staff, seeing all the great things he got to do and great people he got to meet was awesome."
After working full-time in the state capitol in the spring of 2016, Cliffman moved on to campaign work, serving as a field representative in the 2016 for Josh Hawley, who was running for Missouri Attorney General.
Cliffman reached his goal after applying for CLIP's Congressional Scholars program and working for Rep. Hartzler.
To Cliffman's surprise, Rep. Hartzler was hiring a new field representative. Without hesitation, Cliffman applied and is now in charge of six different counties in mid-Missouri for the representative.
"This experience has blown me away," Cliffman says. "Not everyone can say that they wake up and fly around in a medical helicopter with a congresswoman for their job."
Cleeton, a New Franklin, Missouri, native, became interested in politics as a young child in 2000.
"I remember watching the Bush and Gore returns come in and thinking that was really cool," Cleeton says. "I was coloring in all of the states red and blue as they were reported and I just thought it was amazing."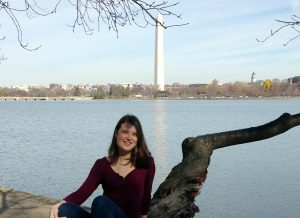 Cleeton majored in biology and Spanish when she first arrived at MU, but an interest in learning about government remained.
"In high school, my political science teacher always told me it was very important to be an informed voter," Cleeton says. "I took that very seriously, so I ended up taking several political science courses (at MU) and getting a minor in it."
Cleeton's roommate directed her to the CLIP's Congressional Scholars program. She applied for the program and earned acceptance. During her time in D.C., she worked in Sen. Roy Blunt's office and learned a lot about policy.
Cleeton returned to Mizzou and completed her degree in biology and Spanish. Two weeks before graduation in May 2016, Cleeton received a call from Sen. Blunt's office in D.C. about a job opportunity. The day of her graduation, she got another call from the office, offering her the job.
"The day I walked across the stage, they offered me the job," Cleeton says. "Two weeks later, I was living and working in D.C."
As much as Cleeton loved the nation's capital, she wanted to focus on state and local politics. A few months after starting work in D.C., she was offered a position to work as a field representative in the Columbia office.
Last May, the new field representative for Sen. Roy Blunt took on her different role.
"It's totally different than the D.C. world," Cleeton says. "I have to know more about policy because I need to know what the senator is working on, what's going on in Jefferson City and what people want on the local level."
During her time at Mizzou, Cleeton has learned more than she ever expected. The CLIP program provided these great opportunities.
"The connections and ability to get out there wouldn't have happened if it wasn't for the CLIP program," Cleeton says. "It was a great learning experience."