Published on Nov. 8, 2017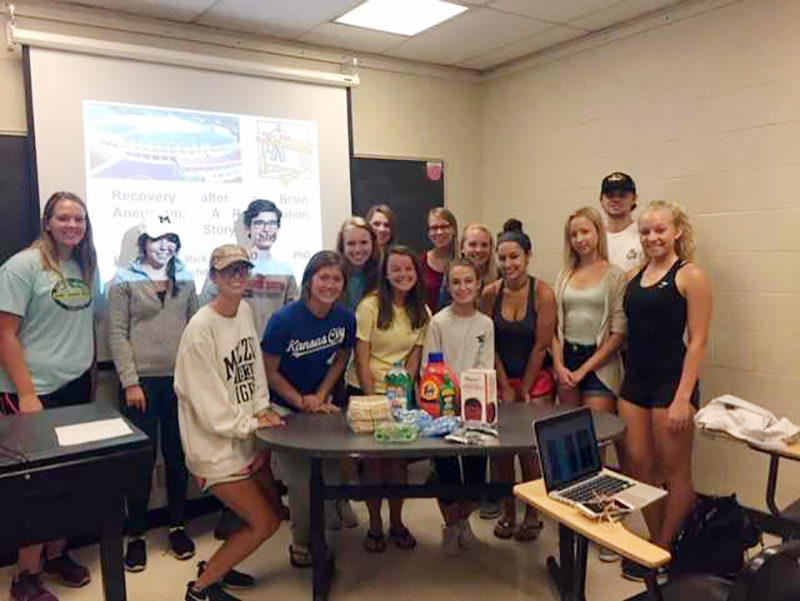 After Hurricane Harvey hit Houston, Texas, in late August, leaving widespread devastation, students in Professor Richard Oliver's Career Explorations class wanted to help.
Missouri is far from Harvey's destruction, but the storm's impacts were felt across campus. Students from, or have loved ones from, the Houston area are still coming to terms with the destruction to those homes and communities.
Freshman Gilliane Dixon is one of those students. Her parents called her after the hurricane battered the city to share that the first floor of their family home was underwater.
The journey to recovery for families like Dixon's will be a long and arduous one. Houston sought help from across the country and many lived in temporary shelters or community centers as they tried to get their lives back on track.
The class mentor for Career Explorations, senior Lindsay Harris, began researching ways to help after watching coverage of the damage on the news and talking to Dixon about her family's experience.
"I stumbled upon a flood bucket cleaning kit that UMCOR (United Methodist Committee on Relief) had created," Harris says. "This simple kit, valued at $75, includes cleaning supplies such as dish soap, work gloves, dust masks and household cleaners. Our class was immediately excited when presented with this idea."
The buckets were donated to families to help them clean up their homes after the flooding to prevent mold growth and further structural damage.
"Lindsay created a list of required components for the flood bucket and had students sign up to bring an item or donate money to buy an item to put in the bucket," Oliver says.
The class, which is an Honors College course, collected Tide products, sponges, dish soap, air fresheners and more. The bucket was sent to a local distribution center in Columbia that transported it to an area in Texas in need of assistance.
The students will never know the identity of the family who received the bucket, but they find comfort in the fact that it helped someone who needs it.
"I think the class leaned two things through this mini project," Harris says. "First, even though you are hundreds of miles away from a disaster, doesn't mean you can't help. Second, I think the class learned that the people around them aren't just classmates or peers. These people care about you and they can be there for you in times of need. We are all Mizzou Tigers and we have to help each other out when we need it the most."
Oliver is not surprised by his students' willingness to spring into action and help those in need through this project.
"The class is focused on career explorations across a wide variety of health care disciplines, and health care careers are, by nature, helping professions," Oliver says. "Since one of the students in our class is from Houston, the flood bucket project was a way to demonstrate to her that we wanted to do something to help reach out to help those who are dealing with the same issues facing her family."