Published on Nov. 8, 2017
Participating in the 2017 Visual Art & Design Showcase was a highlight of Morgan Lieberman's senior year at Mizzou. What that experience led to was more than she could have imagined.
As a participant of the showcase, Lieberman discussed her work with a four-member guest jury made up of nationally renowned experts in art and design. Among the jury members was Sarah Leen, an alumna of Mizzou and the director of photography for National Geographic. Lieberman, a documentary journalism major, had entered a series of photos documenting the La Habra Boxing Club into the showcase.
"I absolutely loved being able to talk about my work in front of an incredibly talented, recognized jury," Lieberman says. "It was empowering to have Sarah Leen look at my work and tell me what I could do differently, knowing that she has had the same constructive conversation with world renowned photographers at National Geographic."
The benefits did not stop there. The jury named Lieberman a recipient of one of the $500 professional development awards in the artistic expression category. Lieberman used her winnings to fund a trip to Cuba. She spent a week documenting life in Cuba for a story originally posted on ViewFind and later picked up by Huffington Post.
"The people that I met during my travels were some of the warmest, most charismatic and welcoming people I have ever met," she says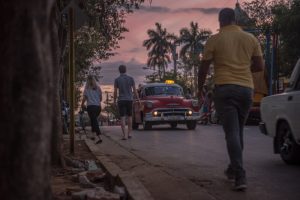 The trip provided several memorable moments such as taking a taxi ride with a driver who drove his late grandfather's pink Chevy and salsa dancing near Malecon, the legendary ocean boardwalk.
"I learned that Cuba is a place often marked by its placement in the past, but it is continuing to move forward with the shift to more privatized businesses that allows the Cuban people to have more financial freedom," Lieberman says.
2017 was the second year that the Visual Art and Design Showcase was held. In each of the last two years, the showcase has awarded $10,000 to students with the most outstanding work as determined by the guest jury. In addition, exhibition awards are presented that allow recipients to share their works in a public space.
One of the 2017 exhibition awards was the Ragtag Cinema Video Award, which was presented to Nathan Wright, who had his digital story titled Death Deferred shown at Ragtag Cinema in Columbia.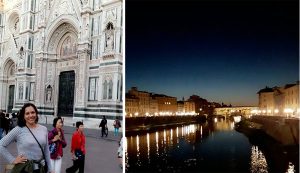 "I was extremely grateful to have the opportunity to screen my film in an actual movie theater," Wright says. "Being able to see your film in the environment it was made for is a joy for any filmmaker to experience."
Carina Jimenez was one of the two grand prize winners at the 2017 Showcase. The grand prize came with $3,000 that she used to attend a two-week oil painting workshop at the Florence Academy of Art in Italy in September.
"Presenting my work to a panel of judges and answering their questions was the experience I looked forward to the most," Jimenez says. "I was nervous about speaking to them, but it helped me gain the confidence I needed when defending my work."
The next Visual Art & Design Showcase is Feb. 5-9, 2018, at which time a new group of participants will find opportunities to further their efforts in the fields of art and design.