Published on Feb. 1, 2015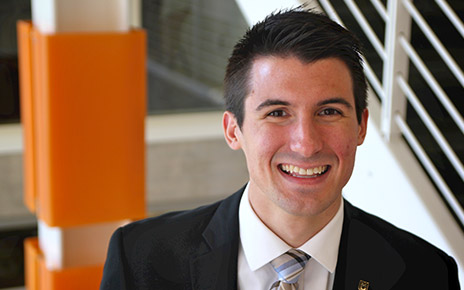 For the last three years, MU students like Mitchell Moonier have worked with the Missouri congressional delegation in Washington, D.C., performing public service and receiving academic credit toward graduation as part of the Civil Leaders Internship Program (CLIP) Congressional Scholar program.
"The connections I've made are very strong," says Moonier, who now serves as the CLIP government student coordinator. "It's the little things you can't put a price on that make up the experience."
Moonier served as a CLIP Congressional Scholar Intern for Congressman William Lacy Clay in the summer of 2013. He assisted Clay's office in a multitude of ways, such as working in the mail room, answering the phones, assisting in constituent relations and spearheading a Medicaid research group.
"It was really rewarding," Moonier says. "I worked with researchers from MU, SLU and Washington University in St. Louis to compile reports on the benefits of Medicaid expansion and present them to the Missouri State Assembly. It gave me a lot of access to the congressman and his Chief-of-Staff."
Students from various degree programs across campus have worked with the state's delegation in Washington, D.C. Besides the opportunity to shape a professional profile as a representative of MU, students network with government leaders while experiencing the history and prestige of the nation.
"The whole point of this program is to introduce students to their own power and leadership, and allow them to be the most effective service leaders," says Anne-Marie Foley, director of the MU Office of Service Learning.