Published on Feb. 1, 2015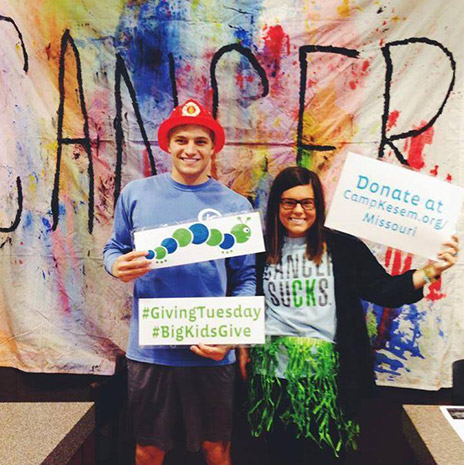 Joe Grotha, senior service-learning student at MU, advanced to the final round of Inside Columbia magazine's Best of Columbia Awards 2015 in the volunteer category.
This readers' choice contest, is decided solely by the public. The final round featured the top 10 nominees in each category. It is clear why Grotha was nominated. He is involved in numerous volunteer activities on MU's campus, in the Columbia community and in his hometown of Kirkwood, Missouri. A sampling of his involvements include volunteering with Camp Kesem, Mizzou Alternative Breaks, Boone County Council on Aging, MU Adult Day Connection and the Boy Scouts of America.
He is also pursuing the Minor in Leadership and Public Service and, aside from being a volunteer, was an intern at Boone County Council on Aging through placement by the MU Office of Service Learning. As a business management student, Grotha was required to do 120 hours of service in the community, but performing service means much more to him.
"I love volunteering because you're doing something to benefit those in need without personal gain and that's a great feeling," Grotha says. "When I heard about service learning and the minor I knew it was a great fit."
Carolyn Anderson, Grotha's supervisor at MU Adult Day Connection, says this dedication to serving others and a professional attitude make Grotha stand out among his peers.
"Joe's professionalism while with us was like an employee, not a student," Anderson says. "He did really well in our environment. He approached everyone with courtesy and respect. I was very impressed with him."
Jessica Macy, Grotha's supervisor at Boone County Council on Aging, agrees.
"He went above and beyond," Macy says. "He stepped in more ways than most staff people would do by working with some of our most challenging clients and providing individual, compassionate volunteer time for everyone. He performed direct service and acted as a fill-in volunteer coordinator for us when we needed it most."
Macy feels that Grotha's presence was integral for the Council's mission. "Honestly, I don't know how we would have made it through the summer without him here," she says.