Published on Feb. 1, 2015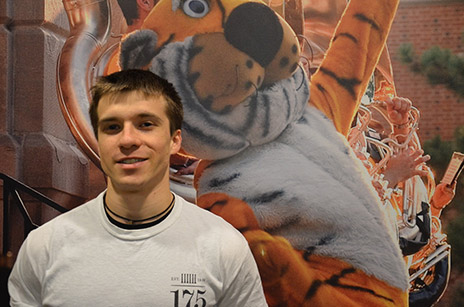 When Tom Laughlin came to Mizzou, he dreamed of working as a biochemist in the pharmaceutical industry. He also knew he wanted to get involved with research as soon as possible, so he applied for the Freshman Research in Plant Science Program and began work in David Emerich's lab.
"I never actually touched a plant," Laughlin says. Instead, he worked with the bacterium B. japonicum. He wasn't able to identify the proteins he was originally researching, but he contributed to the discovery of soybean seed lipoxygenases in the bacteroid periplasm, which is now the topic of his proposed graduate research.
In the spring 2013 semester, he joined the lab of biochemistry professor Stefan Sarafianos in order to gain experience in pharmaceutical research. He began researching HIV-1 entry inhibitors with a graduate student and spent the summer of 2013 as an Amgen Scholar at Washington University in St. Louis.
Upon returning to the Sarafianos Lab, he began a project to assess anti-viral properties of phytochemical-stabilized gold and silver nanoparticles. He presented a poster on the research at the MU World AIDS Day Reception in 2013. While working on the project, Laughlin formulated a homemade version of a reagent that decreased the cost of his experiments from $95 to $2 per trial. The formulation is now used for standard assays in his lab.
"Tom spearheaded the homemade reagent," Sarafianos says. "He, along with a graduate student, did the research and really showed initiative."
The discovery has saved money in the lab, decreasing the cost from $1 to about 2 cents per determination.
"It was quite surprising from an undergraduate and is one of many things that Tom has done in the lab that show his creativity," Sarafianos says.
Laughlin then began working with E.coli for a project to reduce the time and cost necessary to produce certain proteins for experiments in the lab. He has enjoyed working on this project, despite encountering several roadblocks.
"That pretty much sums up my research experience—troubleshooting," he says.
As he learned more about the inner-workings of different bacteria and viruses, he began to really enjoy this field of research and became fascinated with the microbial metabolism. Now, he hopes to pursue a career researching and engineering microbes for applications in agriculture, medicine and energy production.
He graduated in December, but will continue to work in Sarafianos Lab through the spring semester and has applied to multiple biochemistry and microbiology Ph.D. programs. He has also applied to the National Science Foundation Graduate Research Fellowship Program and will find out in April if he will be a recipient.