Published on Feb. 1, 2015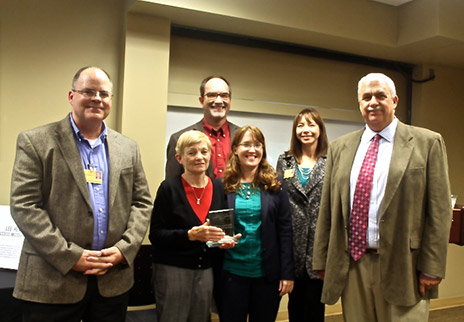 The Lee Henson Access Mizzou Awards were created to honor MU's former Americans with Disabilities Act (ADA) Coordinator. Henson had a long-standing record of service and advocacy on the Mizzou campus and in the Columbia community.
The Americans with Disabilities Act was designed to protect people who have disabilities against discrimination in all aspects of life ranging from employment, transportation, public accommodation and communication.
During his time at Mizzou, Henson served as an Ex Officio member on the Chancellor's Committee on Persons with Disabilities. The purpose of the committee is to advise the university on disability issues and offer solutions. Committee Chair Cheryl Shigaki describes the goal of the committee as one of inclusion.
"We don't want people with disabilities to stick out because of their disability," Shigaki says.
After Henson's passing in 2013 the committee developed the awards as a way to recognize others on campus who share Henson's passion and dedication to disability awareness and advocacy.
Director of the Disability Center Barbara Hammer says the award "shines a bright light" on those who support disability issues.
Committee member Susan Lever helped create the criteria used to select winners. She says the committee wanted to recognize people who went beyond their job description to do "little things all the time or big things periodically."
This year's winners reflect those values.
Cathy Thomas was honored to receive the award, especially because she had an opportunity to work with Henson.
"He was a very dynamic man who had great vision for how things could and should be," Thomas says.
Mary Bixby works with students who she calls "differently wired" with cognitive and affective differences. She aims to help them learn in creative ways.
John Neal and his co-workers Joseph Pille and James Heckemeyer work to alleviate barriers people with disabilities may have with mobility.
Through their work they raise awareness with other contractors on how construction projects can be completed without hindering mobility access.
"We're all trying to do the right thing," Neal says. "That starts with caring about what you're doing and how what you do impacts others."