Published on Feb. 1, 2015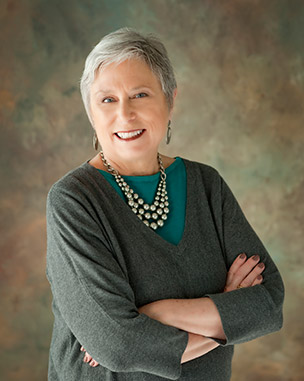 While visiting New Haven, Connecticut, English professor Marty Townsend read a column in The New York Times titled "The Death of Letter Writing." It got her thinking about how she could bring that conversation to students. "By the time I was flying home, I was making notes like crazy, with the course in mind," Townsend says.
She submitted a proposal for a writing intensive project award through the MU Campus Writing Program for the course, "The Letter as Genre," and received the grant to teach the class last semester.
The funds from the grant were used to take students on a field trip to The National Churchill Museum in Fulton, Missouri, bring in several notable guest speakers and provide fountain pens for every student.
In Fulton, the museum educator planned a session for the group to see the actual copy of Winston Churchill's Iron Curtain speech.
"The document is a speech, not a letter, but seeing the document with Churchill's own annotations was extraordinary," Townsend says. "We also looked at letters from world leaders who corresponded with the Prime Minister."
While visiting the museum, the group also viewed the Smithsonian Institution Traveling Exhibition, "Mail Call," which depicts the history of letters in the military.
"The exhibit takes up how important mail is to soldiers and how important it is to them to be able to write to their families at home," Townsend says. "I think everybody really appreciated it."
The students discussed letters in many different settings— wartime, sports and civil rights—and the roles technology plays in the topic. Professor Anne Stanton from the Department of Art History and Archeology taught a lesson on handwriting from the medieval ages until current time, after which students wrote letters with their fountain pens.
"There was so much to talk about," Townsend says. "Every class period was full of ideas popping around."
Teaching Assistant Joe Simpson, a master's student in Rhetoric and Composition, led a discussion about Lou Gehrig's letters as well as one of the lessons from wartime letters. Simpson served in the Army from 2003-11 and was deployed to Iraq from 2006-08.
"I brought in my letters from Iraq when I was deployed and my grandfather's letters from World War II," he says. "I made comparisons between the two to show the class how different letters function for the soldiers in wartime, for the families back home and how they affect American culture in general."
He worked with Townsend to develop the course and brought new material to the table that he thought would strengthen the class. Simpson was shocked at the level of enthusiasm the students displayed.
"To be honest, before starting the course I thought a topic like letter writing would be kind of dry for them—there are not a lot of obvious connections to practical work," he says.
"They really dove in headfirst and we strived to make all the connections they raise."
Senior journalism major Shannon Robb says a reason she took the course was because of her past experiences with letters. She and her friends had made a pact to write letters to each other to keep in touch, but it fell through.
"There's something very romantic and quaint to me about reading a letter written by someone you know but that shows them at a very different point in their life, in a way that you've never known them," she says.
Her favorite part was the research project, in which students talked to various people about their opinions on letters and their letter-writing habits. The research was compiled into an article that the entire class had a hand in writing. Robb found it fascinating to hear people's answers.
"What I found, in general, is that a lot of people don't believe that letter writing is dead," she says. "They agree it happens less frequently, but they are hesitant to even say that it is dying, because "dying" suggests that, at some point, it will be dead, extinct, non-existent, and they don't think that will happen."
Freshman biology major Caroline Dunn says her favorite part of the course was examining the psychology of various letter writers, recipients and others involved. The class looked at letters from a wide variety of people and considered the context, audience and different ways to interpret pieces.
"We looked at the situation each writer was in as they wrote the letter and how that may have affected them," Dunn says. "I personally found that extremely interesting."