Published on Feb. 1, 2015
Giving back is more than just logging hours for MU senior Tia Paulette.
Paulette overcame a difficult childhood, not succumbing to burdens that had held others in her family back. Paulette, who spent her childhood in Memphis, Tennessee and St. Louis, Missouri, says friends and faculty at Eureka High School near St. Louis helped her conquer the challenges.
"If you told me five or six years ago that I would be where I am today," Paulette says, "I wouldn't believe it. I am the living the dream."
Paulette's new reality is full of accomplishments. She is a dual major in political science and philosophy with a 3.6 grade-point average. She holds two jobs and has held several leadership positions in her sorority—Alpha Delta Pi—including Greeks Advocating for the Mature Management of Alcohol Liaison and Homecoming Blood Drive Liaison.
Paulette is also involved in several student organizations including serving as the director of strategic communications on the Judicial Peer Advisory Council, sitting on a panel to hear MU Standard Code Book violations. Paulette recently ended a term as director of internal relations for Mizzou Off-Campus Mentors, where she worked to ensure students successfully transitioned into a healthy off-campus lifestyle. She is also a member of the Society of Fellows in which she contributes to a scholarly journal on constitutional democracy.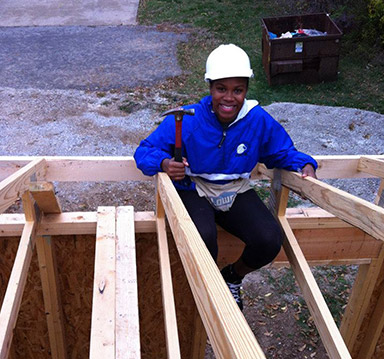 In addition to her leadership positions, Paulette makes time to give back to others via Caring for Columbia, Habitat for Humanity and the Food Bank for Central and Northeast Missouri.
"I genuinely love and care for people," Paulette says.
That is evident through her many service projects.
For the past two years she has served on Mizzou Alternative Break service trips to San Antonio and New Orleans and this spring Paulette will be a Site Leader on a trip in Atlanta. During the trip she will work to address homelessness and poverty.
"I'm reciprocating what the world has given to me," she says. "I do not count the community service hours. I go into it knowing my life is going be changed."
Paulette says she received support from others throughout her life and therefore views community service as a humbling experience.
"I am grateful for the struggles I have had because it could be worse," Paulette says.
Paulette has traveled to Costa Rica and Ecuador where she saw the struggles of others first-hand. During her time in those countries, Paulette enhanced her Spanish speaking skills and experienced the culture by making friends and trying new things.
When she is not in class or volunteering, Paulette is working on attaining her goal of attending law school.
"I want to redefine justice," Paulette said. "I want to speak up for those who can't speak for themselves."
Paulette's mission to help others will not stop at graduation. She plans to practice criminal law and eventually start her own non-profit organization dedicated to assisting low-income people and minorities.