Published on Feb. 1, 2015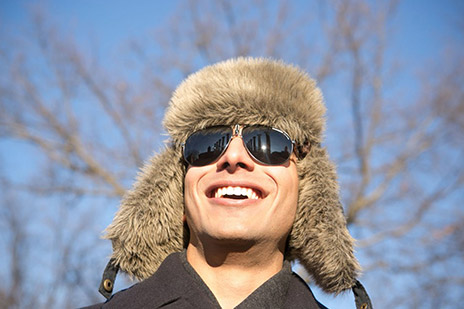 When Azeem Khan arrived at Mizzou, he found an abundance of opportunities.
"The great thing about college is that even though it seems like you are specializing in one subject, there are other opportunities to pursue," Khan says. "You don't have to fall into a trap of only going into one field and only being one thing."
Khan is proving that to be true. While the biological-sciences major spends much of his time immersed in labs and pre-med courses, he continues to follow another of his passions: poetry.
Khan wrote his first poem, a piece he now refers to as "just some silly rhyme," when he was in the fourth grade. A few years later he wrote a poem about staying away from drugs, which the school's principal asked him to read for the student body over the intercom. His interest in poetry grew during his years at Rock Bridge High School in Columbia, and since coming to Mizzou he has developed a liking for epic poems, such as Beowulf and The Iliad. Now a senior, Khan continues to dabble in the literary arts as a member of a campus poetry club that he helped to create.
Khan chose to major in biological sciences because of his interest in the subject and his future plans to attend medical school. However, he did not want to close off other areas in which he had an interest. The Honors College Humanities Series offered the opportunity for diversity that he was seeking. The sequence, an interdisciplinary series of four honors courses, introduces students to the big ideas, questions and debates in areas such as literature, philosophy, art, religion and music.
"I probably spent more time working for those classes than I did for my science classes because it was something that didn't come naturally to me," Khan says. "That has benefited me as my science classes get more difficult. It helped me to develop a work ethic and a determination to keep going, and it gave me the confidence to know that I can pick up a skill and develop it."
When Khan and his friends finished the courses for the humanities series, they felt a void in their college experience.
"To be done with that felt strange because we had spent so much time on those subjects," Khan says. "We wanted to create something that would allow us to continue our interest in that area. We all like poetry, so we decided to start a poetry club."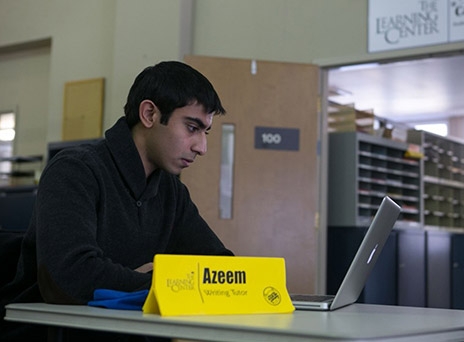 Khan and fellow poetry enthusiasts gather at coffee shops or other locations once a month to share poems they've written, analyze other writers' poems and discuss ways to creatively write or study poetry. "I like that I have the poetry club to give me some time to explore this interest," Khan says.
In addition to being a full-time student, planning for graduation in May and applying to medical schools, Khan serves as a tutor at MU's Writing Center.
Khan had previous experience at the Writing Center, but it came from a different vantage point. A few years ago he was on the other side of the table, seeking advice. He heard about the Writing Center's services while he was preparing an essay as part of a scholarship application.
"I found that there was a place where you can go and bring your essay in, and people will help you do better for free," Khan says. "That was amazing."
He found the tutors helpful and received great guidance for his essay — oh, and, by the way, won the scholarship. A few years later, he returned to the center to offer his help to fellow students.
"I've managed to build up a skill to improve myself," Khan says. "Now I use that in a way that can benefit others."
For Khan, it has always been important to find his own way and to pursue areas that interest him. Mizzou has offered countless opportunities, and he has jumped at the chance to pursue his passions.