Published on Feb. 1, 2015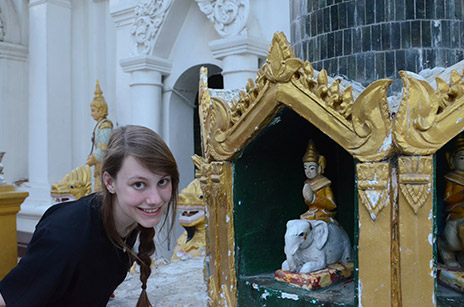 Jessica Anania is not your average college student. A triple major, studying international reporting, political science and psychology, Anania is also a world traveler, social justice advocate and research assistant.
Her resume includes accolades such as Walter Williams Scholar and Missouri School of Journalism Dean's Award for Mastering the Method recipient. Anania is also a Mizzou Alternative Breaks Site Leader and during winter intersession led a team of her peers on a service trip to Greenville, South Carolina, to work with a local children's shelter.
"For me, I took away a lot from the concept of serving, not helping," Anania says.
Last year Anania served on an Alternative Breaks trip in Mobile, Alabama, where she was able to address homelessness and poverty issues.
Her service extends into the Columbia community as well. As a member of Alpha Delta Pi Sorority, she has served as Local Philanthropy Chair and helped organize a fundraiser benefiting Rainbow House. On campus, Anania is a Diversity Peer Educator, facilitating healthy conversation about diversity within the Mizzou community.
"I really want to make an impact," Anania says. "You can talk about something as much as you want but unless you put time, money and resources at that issue, you don't get as much done."
Upon graduation Anania aspires to work for a non-governmental organization where she can follow her passion for social justice documentary film making, impacting audiences through her storytelling and research.
She also wants to pursue research opportunities that will allow her to learn more about how economic development can affect conflict in South and Southeast Asian communities. That is an area she knows well having traveled to Yangon, Myanmar with an organization called Global Journalist to cover the Free Press Conference. At the conference she covered guest speakers and spent her free time reporting on a non-profit called Socio-Lite, which specializes in giving impoverished Burmese women microloans so they can start businesses.
In addition to traveling to Myanmar, Anania spent last summer in Brussels interning at the European Wind Energy Association, where she conducted research, covered debates and tweeted for the organization.
Back at MU, Anania has worked for two years as research intern in the Psychological Research on Information and Media Effects (PRIME) Lab, which conducts theory-driven empirical research that studies psychophysiology reactions to media.
"We apply facial and body sensors to measure things like heart rate and perspiration to see how people are actually reacting and how engaged they are," Anania says.
Anania's work in the PRIME Lab gives her first-hand research experience, a critical skill to have as a psychology major. The experience also helped the journalist major in her.
"I gained a really strong foundation, understanding how people read them [articles]," Anania says.
Anania has earned her stripes by giving back to the community, reporting internationally and contributing to the field of socio-psychology.