Published on Feb. 1, 2016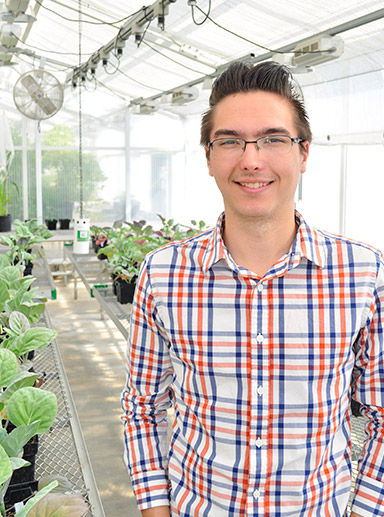 After being diagnosed with a congenital heart defect at the age of 10, MU senior Kevin Bird underwent a procedure that, thanks to medical research, will prevent him from having to have a second procedure for at least 20 years. The research his pediatric cardiologist conducted reduced the number of procedures Bird will require throughout his life. That experience helped Bird recognize research's potential to better the lives of others.
"From really early on, I knew research and scientific knowledge could have a good impact," Bird says.
Bird is majoring in biology and philosophy and conducts research in both fields. Currently, he is collaborating with researchers at Cornell University on a project that involves identifying which genes make plants more nutritious.
"This research is compelling for me because not only is nutrition really complex, but plants' nutritious qualities directly benefit humans," Bird says. "They can improve health in people around the world. It gets to my basic inquisitive side, and it's a good way for me to give back to society."
Bird received a fellowship from the American Society of Plant Biologists and will present his research next summer at the American Society of Plant Biologists Conference in Austin, Texas. Plant biologists from around the world attend the conference.
Bird's research in philosophy permits him to explore fundamental questions about science, such as what it means to develop a hypothesis or to test a theory.
"It's kind of like how people who really enjoy playing sports are also interested in the details and mechanics behind sports," Bird says. "I'm the same for science. I enjoy doing experiments and writing papers, but I also enjoy looking at the conceptual nuts and bolts of how science works."
While Bird values conducting his own research, he also encourages other students to initiate their own projects. As an Undergraduate Research Ambassador, Bird gives presentations to Freshman Interest Groups, classes and student organizations about getting involved in undergraduate research. During his presentations, Bird discusses how students can benefit from conducting research.
"You increase your professional network in a way most students don't do," Bird says. "It sets you above the rest of the students in your class because it shows you have more independence and dedication than a lot of people in your field, and you gain more skills by doing hands-on work."
Including Bird, 11 students serve as Undergraduate Research Ambassadors, and most of them are STEM (science, technology, engineering and math) majors. The Office of Undergraduate Research is attempting to increase the number of non-STEM majors who are involved in research.
"Because Kevin also majors in philosophy, having him is nice when we want to give presentations to non-STEM students," Michael Cohen, Assistant Director of the Office of Undergraduate Research, says. "In terms of majors, we want more diversity in the students who are representing us because we are a campus-wide office and not just a STEM office."
To increase participation in research among non-STEM students, the Office of Undergraduate Research is building relationships with faculty and students across a variety of majors. Bird gives presentations to many different student groups where he discusses what the research process entails and how there is research to be done in every discipline.
"There are times as a researcher where I'm not wearing my biology cap, but I'm wearing my philosophy cap," Bird says. "We don't try to emphasize that we are science majors; we emphasize we are doing research."
Bird likes the idea of helping grow the undergraduate research culture. "Since I've always been surrounded by very supportive and helpful mentors, it's important to me to mentor people who are a few steps behind me and to help them figure things out faster than I did," Bird says.
Due to both his research and academic success, Bird was one of four students MU nominated to receive the Barry Goldwater Scholarship in 2014. The Goldwater Scholarship is the premier undergraduate award of its type in the fields of mathematics, natural sciences and engineering. Bird was deemed an exceptional applicant and earned Honorable Mention recognition.
"Being honorable mention puts me in about the top 450 sophomore and junior science majors in the country, which is a great honor," Bird says.