Published on Feb. 1, 2016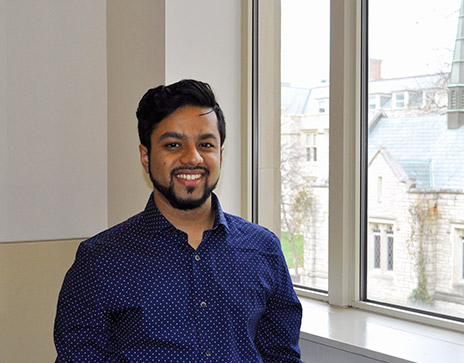 When Anurag Chandran left his home in Dubai and moved to Columbia to start his freshman year at Mizzou, it was the first time he had traveled to the United States. As expected, he encountered a world of difference between Dubai and the U.S. For one thing, he couldn't figure out the weather as he was used to measuring temperature in Celsius.
"With Celsius we usually don't go above 40 degrees," he says. "My roommate would say it was 70 degrees outside and I was like 'wait, what does that mean?'"
Chandran, now an MU senior, will soon embark on another transition. After graduating in May with degrees in political science and economics, he will head off to China to attend Tsinghua University in Beijing as a Schwarzman Scholar.
The Schwarzman Scholars Program, which was inspired by the Rhodes Scholarship, was created to respond to the geopolitical landscape of the 21st Century, understanding China's role in global trends.
Chandran has been chosen as part of the inaugural class of Schwarzman Scholars. Over 3,000 candidates representing 135 countries applied with 111 students awarded the scholarship.
The program will give Chandran the opportunity to develop leadership skills and professional networks through a one-year master's degree at Tsinghua University—one of China's most prestigious universities. He will live and study with the other Schwarzman Scholars on the campus of Schwarzman College, a newly-built facility where all classes will be taught in English, with an intensive Chinese language learning component as part of the curriculum.
Making Mizzou home
Chandran determined early on that he wanted to go to college in the U.S. and was interested in journalism—specifically, he wanted to write about politics and economics. Unlike most soon-to-be college students who visit prospective universities before making their decision, Chandran had to rely on the Internet to guide his search.
"I wanted to be a journalist," he says. "So I thought I might as well go to the best journalism school in the country. But I was dependent on Internet images and Facebook to figure out what it was like."
When he arrived on campus—and while he worked to understand the Fahrenheit scale—Chandran found MU welcoming. He quickly embraced Mizzou, becoming involved in a lengthy list of activities, which included serving as a campus tour guide, being part of the mock trial group and joining a hip-hop dance group called Official.
"The individuals in Official were incredible," Chandran says. "They were so experienced and informed in the art of hip-hop and it was a pleasure to learn from them and preform with them. It was a sense of family; you're just hanging out and dancing."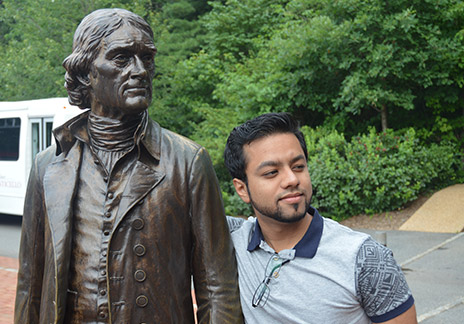 He has also been involved with the Kinder Institute, through which he helped create an undergraduate journal to publish the research of MU undergraduates.
Last summer, Chandran was selected for the Kinder Scholars program, which combines coursework on the foundations of American constitutional democracy with a related internship in Washington, D.C.
Students worked at internships Monday through Thursday, before attending a Thursday night class with topics ranging from voting rights to reconstruction to national security.
"The classes were more like a discussion with a small lecture component," Chandran says. "Every professor brought something new. It didn't get stagnant; every week was exciting."
Each Friday the Scholars took a field trip to a location related to Thursday night's class discussion. Those trips include visits to Harper's Ferry, Colonial Williamsburg and Monticello. A trip to the Smithsonian included meeting with the museum curators to discuss a new exhibit on the intersection between American History and Religion.
The internships the students obtained included jobs on Capitol Hill, in the Executive Branch, at lobbying firms and with not-for-profit groups. Chandran interned with the American Enterprise Institute (AEI), an organization dedicated to research and education of issues involving government, politics, economics and social welfare. He was a research intern with responsibility of monitoring the activities of critical security threats in the Indian subcontinent, particularly Al Qaeda and its affiliates in the region.
"I was looking at primary sources, such as Twitter accounts, affiliated with the militants and mapping out what their leadership looked like," Chandran says. "I would also write about the attacks they officially claimed as well as the attacks they didn't claim."
His findings were published by AEI on the organization's website.
"It is a great opportunity to spend a year [in China], studying the language and culture, getting a master's degree and getting to research."
"Being in D.C. and experiencing all that power and politics was amazing," he says. "It was a very eye-opening experience."
Prior to his summer experience, Chandran spent the Spring 2015 semester interning in the Washington, D.C., office of Senator Claire McCaskill, an opportunity he gained through the Office of Service-Learning's Civic Leaders Internship Program.
Next stop: China
With the help of the Fellowships Office, Chandran discovered the Schwarzman Scholars Program and found it to be a perfect fit.
"It encompasses diplomacy and international security, which are things I am very interested in," Chandran says. "China is at the forefront of everything global affairs related. It is a great opportunity to spend a year there, studying the language and culture, getting a master's degree and getting to conduct research."
Chandran is passionate about research; the moment research was mentioned he knew he would to apply. He intends to explore the relationships of China with the Middle East and South Asia, examining the impact China can have in stabilizing the regions.
"China is one of the largest traders with the Middle East in terms of oil and has a massive influence in South Asia because of its geography," Chandran says. "It is a fascinating subject to look into."
But before he goes to China, he will likely investigate what scale is used to measure the temperature. He's not going to be caught off guard again.