Published on Feb. 1, 2016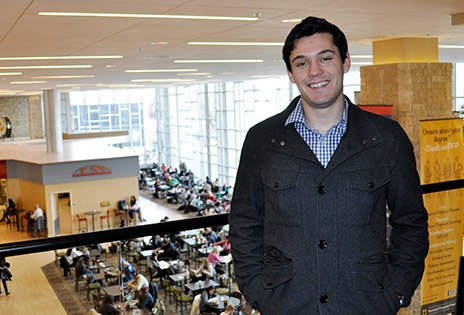 As a student in the MU Community Engagement Project (MUCEP) course, junior Michael Kelly knew he would be required to volunteer at a community organization throughout the semester. Due to his experience working with children, Kelly planned on committing to a site that served that population.
However, because of a scheduling conflict, he did not get that opportunity. Instead of dreading the assignment at another site and begrudgingly serving the minimum hours, Kelly decided to approach the situation with an open mind and put in his best effort. He chose The Arbors at Bluff Creek Terrace, a memory care unit within the assisted living facility that serves Alzheimer's patients.
"I was nervous about serving a completely different population, but I also wanted to try something new," says Kelly.
The Arbors staff is grateful that he did.
"All of my employees brag about how wonderful Michael is," says D.J. Johnson, a coordinator at The Arbors. "He truly goes above and beyond. We always have volunteers here, but no one has made the deep impact that he has."
Kelly makes this impact through his dedication to working one-on-one with residents, rather than just playing games or supervising activities.
"He makes an effort to go around to every resident during his volunteer shift," says Johnson. "It can be hard to have personal interactions with residents who might not talk or who can't recall prior conversations. A lot of people give up – but not Michael. He continues talking and working to get them engaged."
Because of this, Johnson says she has seen an increase in recognition of Kelly by residents, which is a true testament to his effort.
"The residents are starting to remember him and have a reaction when he shows up, which they don't do with other volunteers," Johnson says. "It's a special person who can make that happen."
Kelly says that working with residents one-on-one is an enjoyable task for him because they bring a new perspective that he can learn from.
"My favorite part of serving the elderly population is hearing their stories and learning about their pasts," he says. "It's a great learning experience because they witnessed and experienced things that the rest of us won't."
Johnson believes that way of thinking exemplifies the type of person Kelly is.
"Michael's actions and work ethic show what a sincere, caring and humble person he is," she says. "It's obvious he truly puts his heart into what he does and it's not every day you see a volunteer like that."
"It's been a really awesome experience working with the residents and I will continue to build my relationships with them," he says.
In addition to volunteering at The Arbors, Kelly serves as a team leader for Jumpstart, the volunteer coordinator for Mizzou Student United Way, and a mentor for the First Generation Student Association (FGSA).
A former student of Ladue Horton Watkins High School in St. Louis, Kelly intends to graduate from MU with a bachelor's degree in Health Sciences and minors in Leadership and Public Service, Psychology and Luso-Brazilian Studies.