Published on Feb. 1, 2016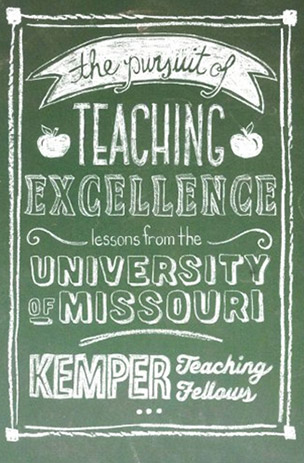 A project that began in 2002 has come to fruition with the publication of The Pursuit of Teaching Excellence: Lessons from the University of Missouri Kemper Teaching Fellows. The newly published book, now on bookshelves at the Mizzou Store, is a collaborative effort of 44 Kemper Fellows who share their teaching expertise.
Every spring since 1991, the University of Missouri has honored outstanding faculty with the William T. Kemper Fellowships for Teaching Excellence. This book pulls together a valuable resource that the Kemper Fellowships have created: a community of teaching scholars.
For the past 14 years, several members of this community have collaborated on a book to share stories, ideas and teaching methods from faculty who are engaged in teaching diverse subjects, in a wide range of settings, to students with widely different backgrounds.
"What is special about this book is the interdisciplinary teams that developed each chapter," says Jim Spain, MU vice provost for undergraduate studies, a 2001 Kemper Fellow and co-editor of the book. "The intent for this book is to serve as a tool box for faculty seeking ideas to use in their teaching with the goal of enhancing student learning."
Co-editors Spain and Alan Strathman believe the book will connect with a broad group of faculty because of the diversity among the chapters. Each of the 12 chapters is written by a team of three to five authors who represent varied disciplines.
"The Pursuit of Teaching Excellence is unique because it is not written out of the unique experience of one professor," says Don Ranly, professor emeritus in the School of Journalism and a 2003 Kemper Fellow. "Instead, the book is a splendid blend of rich advice of dozens of prize-winning professors who have shared their knowledge on a whole host of topics essential to good teaching."
The Kemper Fellows who contributed as co-authors represent the full spectrum of disciplines found at a large, comprehensive, land-grant university such as Mizzou, allowing the reader to benefit from the varied perspectives and approaches used by different faculty.
The editors and authors have agreed to allow all proceeds from the sale of the book to be placed in an endowment fund that will be used to "enhance and advance excellent teaching" at Mizzou.
The book is available through the Mizzou Store, both in-store and online.