Published on Feb. 1, 2016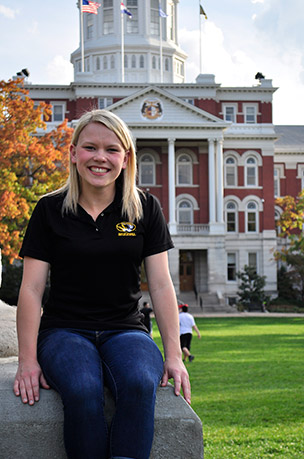 Of the colleges and universities Alana Simpson applied to, the University of Missouri was not one she enthusiastically considered. Having grown up in Ashland, Missouri, just 20 minutes from the MU campus, Simpson wasn't interested in attending a university so close to her hometown. However, she applied anyway.
Although Simpson believed she knew everything there was to know about Mizzou, she signed up for a tour with a guide on MU's Tour Team. The guides are undergraduate students who provide campus tours to visitors throughout the year. The tour turned out to be an eye-opening experience for Simpson, who is now a senior Honors student at MU.
"At first, I thought I knew Mizzou because I lived so close to Columbia, but I was wrong," Simpson says. "Mizzou was everything I wanted in a school. I just didn't know that's what I wanted until I took that tour and spent some time on campus."
As a freshman, Simpson began to take advantage of the opportunities MU offers. Because her tour turned out to so influential, Simpson decided to become a tour guide herself so she could help prospective students learn about the campus and its traditions.
"No matter how much you think you know, you are going to learn something on the tour," she says. "Having local people come tour is one of my favorite things because my goal is to teach them something new."
Through giving tours to prospective students and their parents, Simpson discovered a passion for mentoring others, which led her to apply to be a Summer Welcome Leader in 2014.
"I like mentoring a lot because I love getting to know people, and I knew I would have that opportunity on a very large scale through Summer Welcome," Simpson says.
In fact, over 16,000 incoming students and family members participated in Summer Welcome in 2014 and Simpson led about 15 groups, each consisting of 10 to 20 students.
Still seeking additional opportunities to mentor others, Simpson ran for a leadership position in her sorority, Alpha Delta Pi, and in the winter of 2014 was elected president.
"I really enjoy watching and helping the women grow through leadership positions in the chapter and outside of the chapter," Simpson says. "Getting to watch them develop and become phenomenal people is my favorite part."
Simpson's duties as president include leading chapter meetings, providing assistance and guidance to other members of Alpha Delta Pi's executive board and even helping members with their homework.
Last summer, she traveled to the Alpha Delta Pi Grand Convention in Scottsdale, Arizona, to receive the prestigious Maxine Blake Golden Lion Award on behalf of her chapter. The Golden Lion Award is one of the highest honors a chapter can receive, recognizing only those chapters that meet the highest standards and are considered Alpha Delta Pi's "first and finest" on their respective campuses. Only 14 out of 155 chapters earned the honor in 2015.
Recognizing the success of others is rewarding for Simpson. Last spring, Simpson led the Award for Academic Distinction committee. The award is presented to outstanding undergraduate students who demonstrate intellectual curiosity and make valuable academic contributions to MU. Simpson helped identify the criteria students must meet to receive the award, planned the ceremony and assisted in the selection of the recipients. The award emphasizes the importance of academic excellence at MU.
"We have a lot of things that recognize leadership and service, but not a lot that focuses just on academics," Simpson says. "We have a lot of really cool academic things happening on our campus, and it's good for us as a university to have something that highlights that."
Simpson cherishes the opportunities that have permitted her to positively influence Mizzou and her fellow students. "The opportunity is why I came here," she says. "And the opportunity is what I found."