Published on Feb. 1, 2016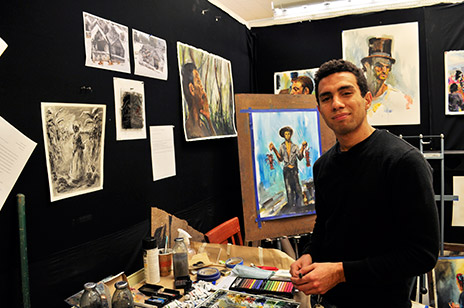 With charcoal, ink, pastels and gouache paint, Mizzou junior Simon Tatum turns plain pieces of paper into colorful characterizations of Cayman Islands culture. Tatum is an art student from the Cayman Islands, striving to depict abandoned traditions of his home islands through his artwork.
"As my generation pushes forward and older generations pass away, a lot of island culture is being forgotten," Tatum says. "I'm trying to make my work relevant to cultures outside of the Cayman Islands so people recognize us. It's also important that my work resonates with Caymanian people so they realize the legitimacy of their own culture."
Tatum's work was on display at the inaugural Undergraduate Visual Art & Design Showcase, Jan. 25–29 in Jesse Hall. He was joined by other undergraduate students in sharing works of photography, graphic design, architectural drawing, theater set and costume design, sculpture, painting, textile and apparel design, mixed media and digital storytelling. Tatum's work was selected for an award in the Artistic Expression category. It was also chosen for an exhibition prize which will allow Tatum to display his work at the Sager | Braudis Gallery in Columbia.
Tatum showed three works of art in the exhibition. Part of a series he calls "Revisiting Early Cayman Photographs," the works are ink paintings on acetate film sheets that focus on his interpretation of old photographs taken of Caymanian people. The photographs come from various collections stored within the Cayman National Archive's photo collection.
Before conducting historical research for his artwork, Tatum was unfamiliar with Caymanian culture and his connection to it. During Tatum's sophomore year, his art professors encouraged him to examine his background. He returned to the Cayman Islands to explore photo archives and literature and conduct interviews with members of older generations, including his grandmother.
"I started to realize the importance of all the things that took place before my lifetime," Tatum says. "I discovered how the decisions people like my grandmother and grandfather made affected where I am now, and I've realized that lineage is important."
Tatum's art depicts Caymanian people occupied with work and activities seen on the islands. Much of his work portrays Cayman turtle fishermen—often young, uneducated men who hunted turtles to feed their families or to sell in countries around the world.
"I've made a connection between myself and these turtle fishermen," Tatum says. "They had a responsibility to help their families, and so I feel a similar tie to my country. I was sent here to get an education and to bring knowledge back that can contribute to my country's livelihood."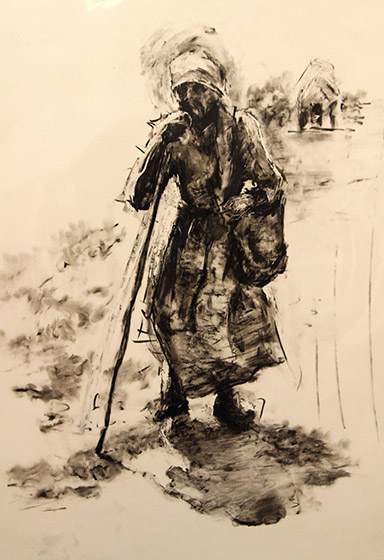 Tatum works closely with the National Gallery of the Cayman Islands, a relationship that began during a summer internship before he came to Mizzou. That internship helped him identify the many art opportunities that exist in the Cayman Islands.
"It's an interesting moment where the arts in the Cayman Islands can evolve in any direction, but it doesn't have a specific direction yet," Tatum says. "I can take part in that. I can help show where we should push the art toward, which is more in the direction of cultural and historical understanding."
Matthew Ballou, associate teaching professor in MU's Art Department, recognized Tatum's devotion to depicting Caymanian culture when Tatum enrolled in Ballou's drawing class.
"Approaching his home islands not as one thing or one history, but rather a constellation of meaning that has filtered through individual lives—that's the power of Simon's work," Ballou says.
The turtle fishermen that Tatum speaks of are depicted in his piece titled "Looking Glass." That work was featured at the Cayman National Gallery's tIDal Shift exhibition last fall. Tatum was the youngest artist in the exhibition. Additionally, his work was admitted into the Cayman National Collection where it will be published in books distributed throughout Caymanian schools.
He was also selected to represent MU at the SEC Academic Symposium's Undergraduate and Graduate Art Showcase in September, where his "Looking Glass" piece was purchased by the University of Florida provost. Tatum has won several awards for his art, including the Berneche Award for Undergraduate Studio Arts Studies, David and Patricia Wallace's Endowment for the Arts, the Deutsche Bank (Cayman) National Gallery Visual Arts Scholarship and the Cayman Island Government Overseas Scholarship.
"He has been able to craft a distinctive link between aesthetically wonderful, well-made works and a difficult history of which not many in the U.S. are aware," Ballou says. "He's showing a Caribbean colonial reality that is marginalized even in the broader history of colonialism."
After Tatum graduates, he plans to work with the National Gallery of the Cayman Islands and enter a graduate program to further his art education, while traveling to experience the artwork of other cultures.
"My desire to learn more about my culture and history isn't going to go away," Tatum says. "I set a platform for myself so I can keep on revisiting these scenes and maybe even expand on them or introduce new scenes. They will all represent a similar drive to understand my culture throughout my career."