Published on Feb. 1, 2016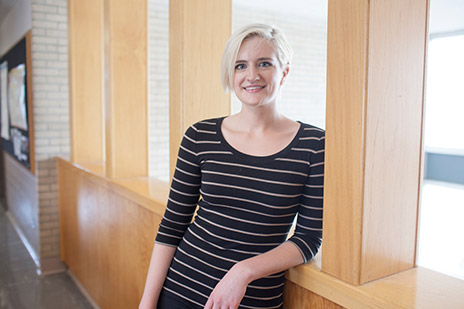 As a freshman at Jefferson City High School, Emily Waggoner was having trouble fitting in. She was not performing well on the school's softball team, and she was losing friends. She struggled with the transition to high school. That adversity eventually led to an eating disorder that left Waggoner weighing just 93 pounds.
"That was my lowest point," Waggoner says.
She has come a long way since then. Waggoner maintains a healthy weight midway through her senior year at MU, which will conclude with her collecting a bachelor's degree in political science before heading off to law school — thanks to the Truman Scholarship.
The struggle
As a youngster, Waggoner was a perfectionist, especially in how she viewed herself and her body.
"I had these internal tendencies to criticize myself harshly. There was this long-lasting problem of me not feeling like I was adequate and not feeling like I was matching up to others' expectations."
Add in the struggles she encountered with the transition to high school, and Waggoner's slide into the eating disorder began. It wasn't long before her parents detected a problem. They tried to help, but Waggoner's decline continued. She slept a lot, fidgeted constantly, lacked focus at school, and became irritable. Although she had long loved playing the violin, suddenly she found herself hating it.
"It takes a while to accept that this is a real problem."
Each day, Waggoner packed her lunch — usually three slices of turkey and a small serving of vegetables. When her mother tried to replace that lunch with a soft taco, Waggoner went off.
"It was a very small taco," Waggoner says. "But I flipped out. I had an anxiety attack. I felt like I had lost control of what I put in my body."
The problem had become serious.
"It takes a while to accept that this is a real problem," Waggoner says. "I was fortunate that my parents were open to the idea of mental illness being a very serious problem." She was diagnosed with anorexia nervosa, and for several months she received treatment.
"It is a unique disorder in that it is both physical and mental," Waggoner says.
The treatment consisted of visiting a psychologist in Jefferson City and a specialist at MU's University Hospital who helped her with coping mechanisms and monitored her physical well-being. She also saw a nutritionist to create a healthy meal plan. Slowly, she improved, and today she considers herself healthy — both physically and mentally — but acknowledges that it requires hard work for her to maintain a healthy lifestyle.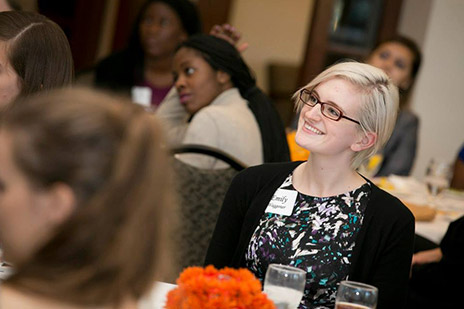 Policy matters
Waggoner developed a passion for politics and policy while part of the debate team in high school. "I became really passionate about policy and thought it was really cool how you can craft legislation to specifically address problems."
She has worked on campaigns for U.S. Senator Claire McCaskill and former Missouri State Representative John Wright, and now she serves on the State Senate campaign for Missouri State Representative Stephen Webber. Waggoner also participated in MU's Civic Leaders Internship Program through the Office of Service-Learning.
Through those experiences, Waggoner learned a lot about issues relating to mental health policy. She noticed two schools of thought: Eating disorders were seen either as a physical disorder that was very serious or as a mental disorder that was also very serious. "It is in this limbo between mental and physical illness where it is not getting covered accurately either way."
The Mental Health Parity Act provides protections for people with mental illnesses to get services. However, eating disorders often fall through the cracks because it is up to health insurance companies to determine what is necessary to treat individuals with eating disorders. Oftentimes, Waggoner discovered, that results in companies limiting the treatments. "I was very shocked, frankly. People with mental illnesses should be able to get coverage."
"I found that the Truman Scholarship was perfect for me. It really appealed to me because the Truman Foundation encourages young, academically successful students to use their talents to advance the public good."
Waggoner was lucky. Her parents had health insurance and were able to afford the appropriate treatment. But others in similar situations are not as fortunate. A passion for mental health policy developed in Waggoner.
Truman Scholarship
After graduating from MU in May, Waggoner plans to use the Truman Scholarship she earned last spring to pursue a law degree.
The Truman Scholarship provides up to $30,000 for graduate study, along with priority admission and supplemental financial aid at some premier graduate institutions, leadership training, career and graduate school counseling, and internship opportunities with the federal government.
Fifty-eight students nationwide were selected for the Truman Scholarship from among 688 candidates nominated by 297 universities. They were chosen on the basis of their academic success and leadership accomplishments, as well as their likelihood of becoming public service leaders.
"I found that the Truman Scholarship was perfect for me," Waggoner says. "It really appealed to me because the Truman Foundation encourages young, academically successful students to use their talents to advance the public good."
The application process was difficult. "If I had any advice to give to someone applying for a scholarship, it would be to start early and portray yourself honestly in your applications," she says. "I don't typically delve into my eating disorder, but I wrote my personal statement about that. Having to do that was incredibly challenging, but so worthwhile."
Since 1987, MU has been home to 16 Truman Scholars, along with numerous finalists, including 2015 finalists Waggoner and Samantha Franks.
Ongoing battle
"I'm never going to be fully recovered," Waggoner says. "People see me now and see that I'm at a healthy weight, I work out and I seem very happy. But I need to have a regimented schedule and I need to know what I am putting in my body."
If she starts to think about food too much, then it becomes a problem again.
"I go in cycles," she says. "I'll be in a very healthy place, and then I will have some stressor in my life that will cause me to think about it again. But I have been able to maintain a healthy lifestyle."