Published on Feb. 1, 2016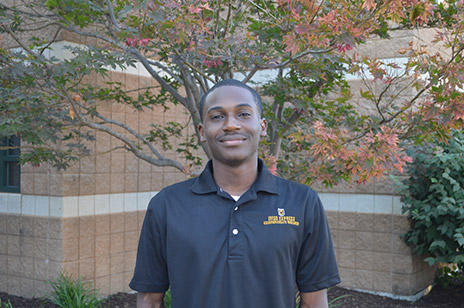 Through the Exposure to Research for Science Students (EXPRESS) program at Mizzou, Edric Winford has found a career he is passionate about and a community at Mizzou he says he couldn't be without.
EXPRESS is for freshmen and sophomore underrepresented minority students pursuing an education in the sciences. It is funded by a grant from the IMSD program through the National Institutes of Health Through EXPRESS, students have opportunities to conduct undergraduate research, as well as having access to peer mentors who help with academics, career decisions and college-related challenges.
Winford joined EXPRESS his sophomore year and soon after got involved in a research lab focused on immunology with Charles Brown, a MU professor in the College of Veterinary Medicine. It was through EXPRESS and undergraduate research that Winford realized his true interests and determined his ultimate career goal. After less than six months of working in Brown's lab, Winford decided he wanted to be an immunologist; it's a career he's pursuing thanks to his experience with EXPRESS.
Winford has found more than just a career goal through EXPRESS. Now a senior, he recently attended the Annual Biomedical Research Conference for Minority Students (ABRCMS) in Seattle. The conference attracts over 3,500 undergraduate and graduate research students, faculty and postdoctoral scientists each year.
When he left campus for Seattle in November, he had his sights set on winning an Outstanding Poster Presentation award.
"I told Dr. Brown, 'I'm coming back with this award,'" he says.
But as confident as he was in his abilities, he was still surprised when he was one of the 200 students selected for the award.
"I was very happy," Winford says. "It was a really exciting moment."
Winford will graduate from Mizzou in May with a degree in biological sciences and plans to attend graduate school to study immunology and neuroscience. While his ultimate career goal is to be an immunologist, he says his experience as a mentor at EXPRESS has encouraged him to teach at a university.
"I've really enjoyed my peer mentor experience at EXPRESS, and I think that's translated into wanting to teach," Winford says.