Published on Feb. 1, 2017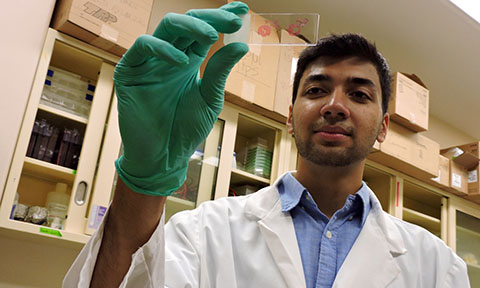 University of Missouri senior Abuzar Mahmood believes that in order to solve the world's most pressing problems, scientists from different backgrounds and disciplines must work together.
"People have done amazing things in their own fields, but I think the bigger challenges approaching us will require collaboration between scientists in many different fields," Mahmood says.
Mahmood, who is from Pakistan, conducts interdisciplinary research, which is research that takes place when people specializing in different fields collaborate to answer questions that are beyond the scope of a single discipline. Mahmood discovered the importance of interdisciplinary research during his freshman year at MU.
"I've always been interested in space and the intricate workings of the universe, so I initially decided to pick physics as my major," Mahmood says. "But once I was exposed to different fields during my coursework, my interest shifted to more interdisciplinary work such as biophysics and biochemistry."
In addition to majoring in physics, Mahmood is pursuing four minors in mathematics, chemistry, biology and computational neuroscience. He also conducts undergraduate research in Professor Lakshmi Pulakat's lab where he studies how nutrition-related conditions such as diabetes and obesity affect how the heart functions. Specifically, he evaluates the usefulness and efficacy of new drugs designed to halt the progression of heart disease.
"Despite decades of research, the amount of money spent on the research and the gigantic array of drugs available, heart disease isn't slowing down," Mahmood says. "It makes me think about what we're missing, and it makes me want to do research differently to hopefully discover something new."
Mahmood has been working with Pulakat since he was a freshman. Pulakat, a professor of medicine and professor of nutrition and exercise physiology, says that by conducting research in her lab, Mahmood has developed excellent problem-solving skills and the ability to take an interdisciplinary approach to research.
"Abuzar is an excellent undergraduate student who grasps new ideas quickly and is willing to take up the challenge associated with testing such ideas," Pulakat says. "He understands the need of unconventional approaches to test new ideas, and he has a commendable work ethic."
When he is not working in Pulakat's lab, Mahmood enjoys learning about the diverse array of research that students and professors conduct at Mizzou.
"Here, you have people doing things that are both so different and so similar to what you're doing," Mahmood says. "It's interesting to look into what other people are doing because that feeds into what I'm doing. Nobody knows everything, so it's fun to dive in and see all the cool ways everyone's research can overlap."
The countless research opportunities available to students is what inspired Mahmood to study at MU.
"As an international student, I was not exposed to the idea of students conducting research at the undergraduate level before applying to colleges in the U.S.," he says. "What attracted me most to MU was the fact that it is a university with the highest level of research activity, which means that as a student, I would have the opportunity to join a lab working on any topic I could think of."
In addition to learning how to conduct research, studying in the U.S. has taught Mahmood to keep an open mind.
"Seeing the workings of another culture really broadens your understanding of how people are and how the world works and strongly encourages you to be more accepting," Mahmood says.
After he graduates, Mahmood plans to conduct research at a university and teach students how to conduct interdisciplinary research.
"I think his research experience has given Abuzar a strong foundation to be successful in his future endeavors," Pulakat says.