Published on Feb. 1, 2017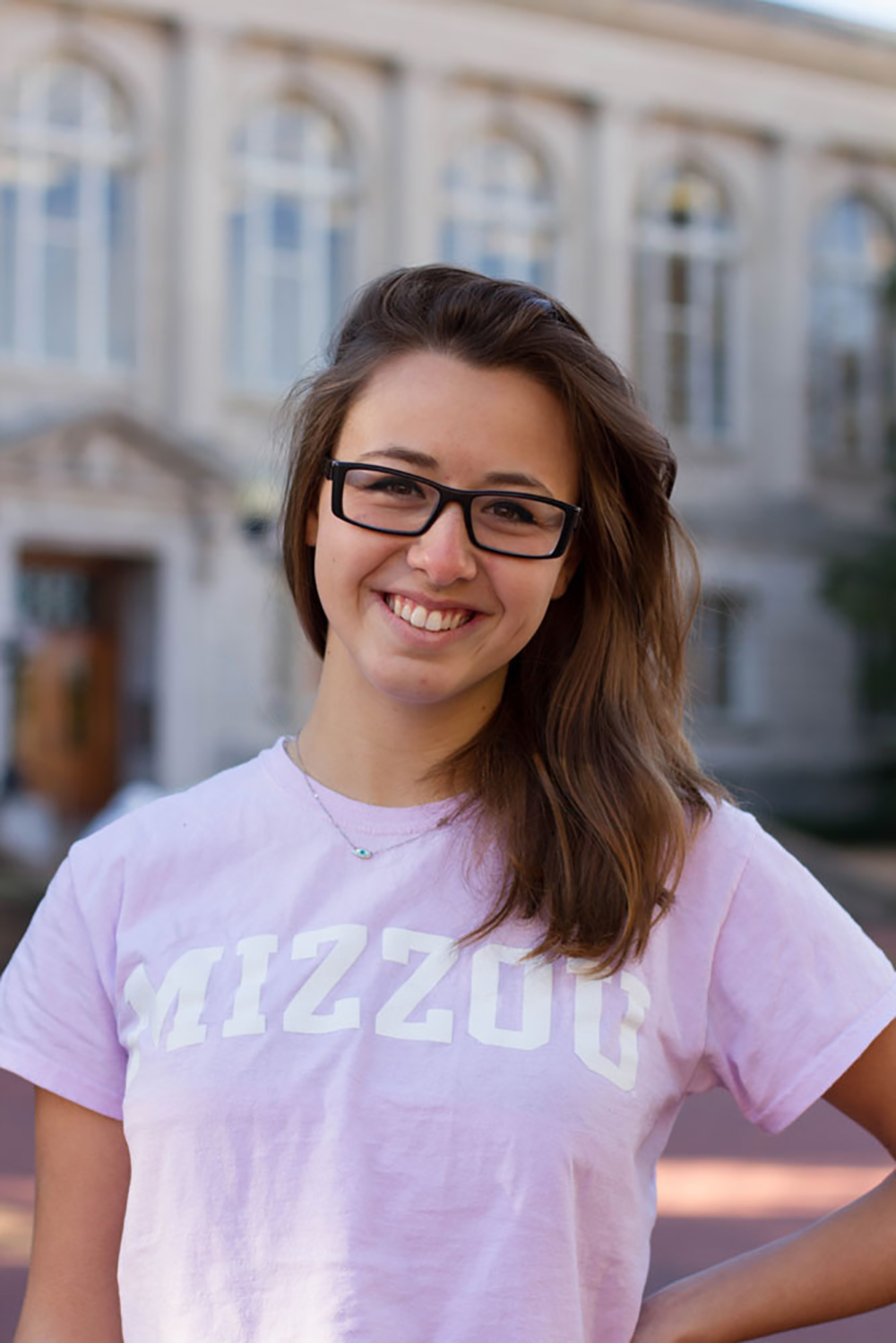 Maria Kalaitzandonakes' path to becoming a Harry S Truman Scholar and Mizzou '39 member started when she was taking a make-up math exam while a student at Rock Bridge High School in Columbia. In the school's testing room she met Rock Bridge teacher Lilia Ben Ayed, who taught English to students new to the United States. Ben Ayed's English Language Learners program intrigued Kalaitzandonakes, and she became a tutor with the program. Soon after she started, Kalaitzandonakes learned that many of the English students had come from refugee camps and had dealt with malnutrition.
"There were some difficult stories to hear," Kalaitzandonakes says. "I started to think about how I wanted to make a difference."
Kalaitzandonakes is a double major in agricultural economics and science and agricultural journalism. She will graduate in May and pursue a master's degree in agriculture economics, funded by the Harry S Truman Scholarship she earned last spring.
While her interest in food security began with English Language Learners, Kalaitzandonakes was not a stranger to agricultural economics. Her father, Nick Kalaitzandonakes, is a professor in the MU Agricultural and Applied Economics Department and director of Economics and Management of Agrobiotechnology Center at MU. He has been at Mizzou since 1990. Growing up, Maria often talked with her father about the agriculture markets.
"I decided economics was the place for me, partially because I had been talking about it with my dad since I was 2 years old," she says, "but also because understanding the fundamentals of why something works like it does is really important before you go and fix the problem."
As she began to study agriculture economics, she realized that no research, aid project or policy happens without talking to people. "A lot of projects die because someone doesn't know how to talk with consumers or taxpayers," she says.
That is where she puts her journalism skills to work. Writing has been important to Kalaitzandonakes since was young — "I wanted to be J.K. Rowling," she says — but her first venture into journalism was an accident. She wrote down the wrong number when attempting to sign up for a Rock Bridge piano class and ended up enrolled in Robin Stover's journalism class. That turned into a fortunate mistake.
"She showed me that my words can have an impact," Kalaitzandonakes says. "In food security, we talk about how if you've never been hungry, how can you imagine what it is like? The power of story is explaining something to someone who has never experienced that. A story has the power to get people to consider where their food comes from or why they should vote for a policy or support aid organizations."
Kalaitzandonakes is active with the Brady and Anne Deaton Institute for University Leadership in International Development, which focuses on hunger and food security issues. Kalaitzandonakes' work with the Deaton Institute makes sense on multiple fronts. The institute is an ideal place for Kalaitzandonakes to put her interest in food security to work. It's also familiar; Kalaitzandonakes has known the Deatons her entire life.
Brady Deaton, who was MU Chancellor 2004-2013, was the chair of the Applied Economics Department, working with Nick Kalaitzandonakes 1989-1993. During that time, the Kalaitzandonakes and Deaton families became close.
"We hosted a baby shower for Maria," Deaton says. "Because she was born early, she was actually present."
Deaton watched Kalaitzandonakes grow up and taught her how to play chess. "I suspect she could now best me any time," Deaton says. Kalaitzandonakes remains close to the Deatons, often babysitting their grandkids when they are in town.
"She is no ordinary babysitter," Deaton points out. "She comes with art supplies and creative projects to undertake. The kids can't wait for her to arrive."
Kalaitzandonakes calls Brady Deaton and his wife, Anne, significant mentors. "They have given me so much information, and I've learned so much from both of them," she says. "Not only are they amazing people who do amazing things, they are so kind."
In 2015, Kalaitzandonakes attended Universities Fighting World Hunger (UFWH), a meeting of an international coalition exploring what universities can do in response to the problems of hunger and food security. After that conference, Deaton approached Kalaitzandonakes with an idea for Mizzou to host UFWH. The following year, MU hosted a completely student-led UFWH conference, with Kalaitzandonakes on the planning team.
"She was a key leader in developing the program at MU for UFWH," Deaton says. "It was a very successful program, bringing approximately 350 students and faculty from 40-plus universities across the country and from several other countries."
She is leading a group of Mizzou students that will travel to UFWH 2017 at Walsh University in Canton, Ohio, over spring break. She is also working with Ben Ayed to develop an ELL program for students with agriculture and nutrition curricula. That program will begin in April.
Kalaitzandonakes serves on the Student Advisory Committee for the Deaton Institute. She is founder of, and a founding mentor in, the Deaton Institute's new mentorship program. Through the Deaton Institute, Kalaitzandonakes is exploring topics such as access to markets, media reportage on agricultural innovations and hands-on English language learner education.
"I believe in institutional power," she says. "If you've been to countries that don't have strong institutions that protect people or strong laws that take care of people or markets that work, people have less opportunity."
Kalaitzandonakes learned about the nationally competitive Truman Scholarship after a professor encouraged her to attend a seminar featuring the Fellowships Office. There, she met Tim Parshall, director of the Fellowships Office, and set up a meeting with him.
"He listens to you, takes in all of your interests, and then says, 'this is the perfect scholarship for you,'" Kalaitzandonakes says. "There were a few scholarships he said I should think about, but he told me that I should for sure apply for the Truman Scholarship."
At times, the application process was stressful and Kalaitzandonakes almost stopped writing the application twice, wondering if it was worth it. However, she stuck with it.
"Even if I didn't get the scholarship, I would have been glad I applied because it was a lot of self-reflection," she says. "It made me understand why I wanted to go to graduate school."
She was anxious about her campus interview, showing up two hours early. By the end of it, she thought to herself, "for sure they hated me." That was not the case. She was selected as one of MU's nominees.
"I didn't care what happened next," Kalaitzandonakes says. "It was freeing because I already felt successful."
Next up was a regional interview in Kansas City, an experience she jokingly compares to The Hunger Games.
"You meet up with these people you've never met," she says. "We spent a whole day together and each of us had a 20-minute interview. I thought everyone was going to be so competitive, but it was actually wonderful."
The prestigious Truman Scholarship recognizes students dedicated to public service with selections based on academic success and leadership accomplishment. Since 1987, MU has been home to 17 Truman Scholars, including 2015 recipient Emily Waggoner. Mizzou has also had numerous finalists, including 2017 finalists Taylor Cofield, Chris Dade and Nora Faris.
In 2016, 305 colleges and universities nominated 775 candidates for the scholarship, a record number of institutions and applicants. Each of the 54 selections of the Truman Scholarship received a $30,000 scholarship toward graduate school and the opportunity to participate in professional development programming to help prepare them for careers in public service leadership.
"By successfully competing to become a Truman Scholar, Maria demonstrated that she is competitive with students anywhere in the world," Deaton says.
Earlier this semester, Kalaitzandonakes was a selection for Mizzou '39, which honors 39 seniors each year for their academic achievement, leadership and service to Mizzou and the community.
Kalaitzandonakes has been accepted to Cornell University, where she will pursue a master's degree in agricultural economics. "I want to learn how to be good at looking at a policy and determining where the holes are and what needs to be done to fix them," she says.
She will spend the summer in Washington, D.C., interning with the U.S. Department of Agriculture.
After graduate school, Kalaitzandonakes sees herself working for the U.S. government, where she could work directly with people and open opportunities that allow greater access to markets. She is unwavering in her attempt to make the world a better place.
"We have research; we have enthusiastic students; we have professors with experience," Kalaitzandonakes says. "How can we harness this power?"
With the Truman Scholarship, Kalaitzandonakes will search for answers to that question.