Published on Feb. 1, 2017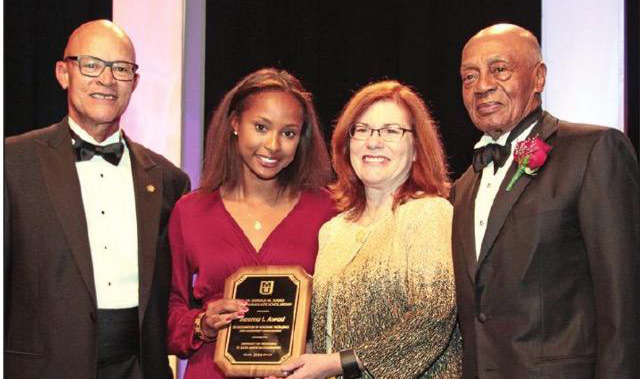 The Dr. Donald M. Suggs Scholarship offers MU freshman Reema Awad more than just financial aid. For Awad, receiving the scholarship is both an honor and an opportunity.
The mission of the Suggs Scholarship is to improve recruitment and retention of academically talented undergraduate students from ethnic groups commonly underrepresented in higher education. The scholarship is named after Donald M. Suggs, who is the publisher of the St. Louis American newspaper, a retired oral surgeon and a distinguished community leader.
"Getting the scholarship is a big honor because of everything Dr. Suggs has done for his community and all that he's accomplished in his life," Awad says.
To be considered for the scholarship, Awad had to submit transcripts, test scores and an essay. She wrote about how her parents, who are immigrants from East Africa, taught her to strive for success.
"My dad was able to come to the U.S., get his education, go through college and make a good life for me," Awad says. "I know how much my parents had to go through to give me what I have, so since they've given me a good platform, I should make the most of it."
Awad's parents inspired her to apply for the Suggs Scholarship, which has already helped her in numerous ways. One benefit of the scholarship is that it offers her and other recipients $15,000 per year for tuition and other expenses such as room and board.
"When I found out I got the scholarship, I was kind of in disbelief because college is a pretty big financial burden, so it really took weight off my shoulders," Awad says.
The scholarship also provides a $2,000 stipend for participation in the MU Discovery Fellows research program, which gives students the opportunity to learn about the process of conducting research. Discovery Fellows work on projects in their academic disciplines, meet other students and faculty who share similar interests, gain insight into the professional world and prepare for graduate school. For Awad, being mentored by a faculty member has been a valuable experience.
"I think the program is great because it allows minority students to get to know some of the faculty better," Awad says. "I've met so many people who I probably wouldn't have met if I didn't receive the Suggs Scholarship."
As a health science major interested in pursuing a career in the medical field, Awad believes it is important for her to learn how to conduct research.
"You can apply the aspects of research to any profession, so it's cool to learn how research is conducted and the many steps you have to go through to do it right," Awad says.
Along with facilitating participation in the Discovery Fellows Program, the Suggs Scholarship gives recipients $7,000 for a study abroad experience. Although Awad is not sure where she wants to study abroad, she knows she wants to go to a place where she can gain experience in health science by helping and treating people.
To offer Awad and other students opportunities to thrive as undergraduates, MU partners with the St. Louis American Foundation to provide the Suggs Scholarship. The foundation enables the African-American community to increase its access to careers in business, the sciences and humanities. Since its creation in 1994, the foundation has given nearly $2.5 million in local community grants and minority scholarships.
MU also helps sponsor the foundation's Salute to Education Scholarship and Awards Gala. The annual event raises money for scholarships for minority students. Awad received her award at the 2016 gala. Additionally, two MU graduate students—Kenneth Bryant and Ashley Price—received recognition at the gala and a $1,500 award to support their research endeavors.