Published on March 21, 2018
A recent survey shows that 90.4 percent of University of Missouri graduates have found successful career outcomes, including whether they are involved in public service, in the military or are continuing their education. MU's career outcomes rate, based on a survey of graduates from fall 2016, spring 2017 and summer 2017, ranks well above the average of Mizzou's peer groups.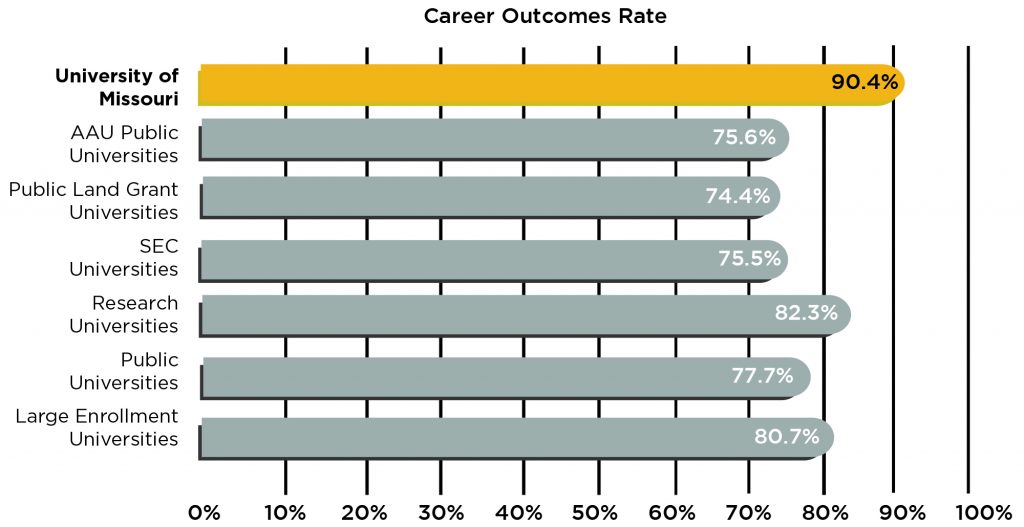 "The results of this survey indicate that Mizzou graduates are prepared to be successful in a very competitive job market," said Jim Spain, vice provost for undergraduate studies. "They are prepared and eager to embark on the next stage of their lives, whether that be starting their career, pursuing additional schooling, volunteering with a service organization or joining the military."
Mizzou's outcomes rate is significantly higher than the average for a variety of peer groups, which reported the following rates for FY15 (the latest national data available):
Association of American Universities (AAU) public institutions, 75.6 percent
Association of Public and Land-grant Universities (APLU), 74.4 percent
Southeastern Conference (SEC) institutions, 75.5 percent
Spain said Mizzou's strong outcomes speak to the variety of supports in place to ensure students are career ready.
"Our students benefit from the tremendous resources offered through our campus career services," Spain said. "Additionally, the experiential learning opportunities offered at MU place our students in a position to be successful after they graduate. Employers recognize that our students are talented, smart and prepared for work in the real world."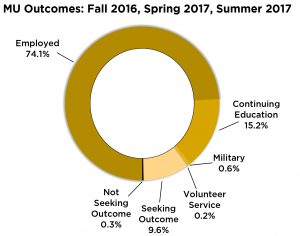 The survey, conducted in partnership with the National Association of College Employers, reveals that 74.1 percent of recent graduates are employed, and 66.1 percent have obtained full-time employment. That's more than 16 percentage points higher than the full-time employment rates for AAU public universities, APLU institutions and SEC universities.
The outcomes survey is part of National Association of College Employers First Destination Survey initiative. Powered by GradLeaders, the MU survey was distributed through emails, at commencement ceremonies, and during classes and events. Requests to complete the survey were sent approximately one month prior to graduation, at graduation, three months post-graduation, six months post-graduation and 12 months post-graduation. When survey data were not available, other sources of information such as LinkedIn were used with careful review and verification by staff members.
MU's survey included data on nearly 76 percent of graduates. This rate compares favorably to peer groups, including AAU public universities (59.2 percent) and SEC universities (61.6 percent).