Published on March 21, 2018
Last fall, senior Pierce Bloebaum took his research to Washington, D.C., after being accepted to participate in the Research Experiences for Undergraduates Symposium (REU). The symposium brought together students from across the country to present their REU-funded summer research to program directors at the National Science Foundation (NSF). The program supports active research participation in the research areas funded by the NSF.
During his REU research, Bloebaum began working with nanomedicine and its potential to treat prostate cancer. His research focused primarily on synthesizing nanoparticles and testing how they affect cancerous cells. He used acai berries and cranberries as a way to target cancerous cells and effectively kill them.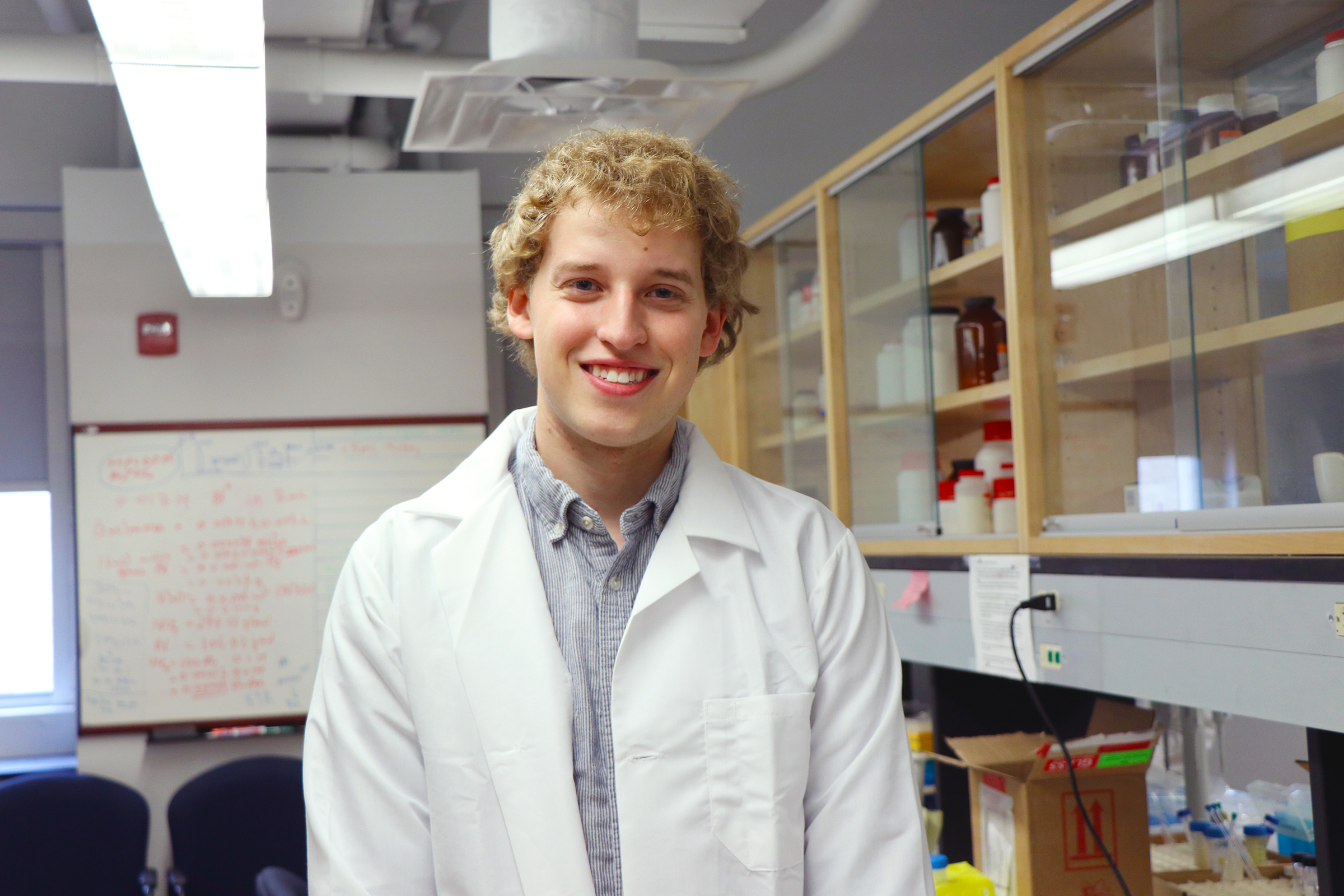 "The goal is to be able to get these nanoparticles to only target the cancerous cells and leave the healthy cells unharmed," Bloebaum says. "My next experiments will be to see if my treatments affect healthy, human cells—hopefully they don't."
Bloebaum says that the key to cancer treatments is selectivity because without it, the entire body is harmed.
Bloebaum has been working under the direction of Curator's Professor of Physics and Radiology Kattesh Katti in the field of Green Nanotechnology. Katti has trained REU students at MU for more than 27 years and has worked with more than 25 students in his laboratories. Additionally, he teaches a course titled Physics and Chemistry of Materials, in which he instructs pre-med, engineering, physics, biology and chemistry majors about the synthesis and characterization of different types of nanomaterials.
"I tell my students that MIT, Harvard and Stanford are the great places," Katti says. "But there is nothing that stops us from being as great as MIT, Harvard or Stanford. I have always believed in excelling to the highest levels no matter where one is. Mizzou offers tremendous value in graduate and undergraduate education—as great as what one would find in the world's top notch institutions."
A unique aspect of Bloebaum and Katti's research is that all of the processes used are environmentally friendly. No toxic chemicals or toxic chemical byproducts are involved, meaning it presents no toxicity to the environment or to the people who would potentially receive the treatment. Bloebaum says that other processes that synthesize nanoparticles use toxic chemicals, which can break down proteins in the body and become fatal. Green research is able to eliminate that risk and make effective cancer treatments using all natural ingredients.
Bloebaum came to Mizzou with the goal of attending medical school. While he is on the pre-med track and plans to attend medical school, Bloebaum is majoring in math and physics.
"I had a high school physics teacher who really got me to love physics, so I wanted to continue doing that," he says. "I like the way you're taught to think; you need to have critical thinking skills to be successful in physics."
In addition, he is the president of the Honors College pre-med scholars and works with the Art Department to make 3D print models for painting classes to use.
Bloebaum hopes to continue his research after graduation and is looking into Mizzou's exchange program with the University of Western Cape in South Africa.
"(MU) is one of the only places in the world where this type of research is going on, and I would like to stay here if I could," Bloebaum says. "I really like the research I'm doing. I love my lab, and I'd like to continue doing that as long as I can."
He hopes that one day his research advances to clinical trials.