Published on Aug. 21, 2020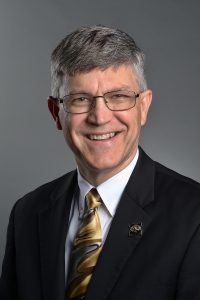 Being able to pivot is essential to the sport. Its mastery allows a point guard, under duress, to maneuver and pass to a teammate, or perhaps shake the defender and elevate for a jump shot. It's also key for the "bigs" in the paint who use the pivot to gain a space advantage for a clean look while protecting the ball.
The University of Missouri, like all of us in 2020, has been asked to pivot. For students, faculty and staff at our great land-grant institution, the COVID-19 pandemic has forced us to be flexible and open to new ideas. Powerful remote-learning tools — such as Canvas, MU Connect, Panopto and Zoom — are used every day to help Tigers succeed wherever they might be. The MU Teaching for Learning Center has assembled a package of resources to help instructors find adaptive digital strategies in a shifting landscape. And the Office of Undergraduate Research collaborated with MU Libraries to move its signature in-person event — the Undergraduate Research and Creative Achievements Forum — to a successful web format in the spring and summer.
As Vice Provost for Undergraduate Studies, I am extremely proud of our team's contribution to MU's efforts to assure undergrads receive a world-class education regardless of unpredictable circumstances. Mizzou pivoted, creating space in which to operate while protecting our core mission of serving and supporting our students.
Even this publication has become an exclusively digital "endeavor," if you will. All of the stories collected in this volume highlight our continued commitment to student success and Mizzou's core values — Respect, Responsibility, Discovery and Excellence — during these uncertain times.
The University of Missouri is poised to return to in-person learning on campus this Fall 2020 semester (see our comprehensive plan, Show-Me Renewal, here). Regardless of how the future unfolds, rest assured that our team and university will work together to pivot at a moment's notice when necessary in order to serve and support our students.
Go Tigers!