Published on Nov. 8, 2017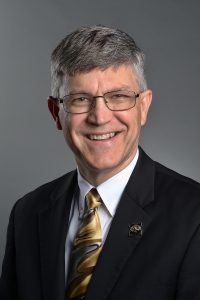 In the cover story of this issue of Mizzou Endeavors, you are introduced to Tyler Emery, an honors student who has been co-anchoring the nightly newscasts for KOMU-TV. Our esteemed School of Journalism is a leader in providing students with high-impact practices such as the experiential learning opportunity that Tyler has realized.
Our undergraduate programs have excelled in high-impact practice areas for many years and I am happy to share some of those stories in the pages that follow. High-impact practices have been shown to increase student engagement and success and can take many different forms. For example:
Alex McClelland works closely with a faculty member on a study of immune systems in plants. Alex's undergraduate research experience began as soon as he stepped onto MU's campus and became involved with the Freshman Research in Plant Sciences program. Now a senior, he continues his research and spent last summer working at the Danforth Plant Sciences Center in St. Louis.
Service-learning and internships are two high-impact practices that are combined in the Civil Leadership Internship Program (CLIP). Thanks to governmental internships they received through CLIP, two recent Mizzou alumni landed full-time jobs with members of the U.S. Congress following graduation.
Mizzou's Writing Intensive (WI), another high-impact practice, is among the nation's best thanks in large part to the leadership of our Campus Writing Program. MU faculty, such as 2017 Win Horner Award Winner Gabriel Fried, incorporate writing into their courses in educational and stimulating ways to help students not only master course concepts, but also engage in critical thinking and innovative writing.
High-impact practices place students in environments that help them succeed while at Mizzou and later when they enter the "real world." We strive to prepare our students to be successful across their careers and ready to serve in the communities they call home. I am proud to share some of these stories in this issue of Mizzou Endeavors, along with accounts of other recent student and faculty success at MU.
Go Tigers!
Jim Spain
Vice Provost for Undergraduate Studies
spainj@missouri.edu
@MUJimSpain