Published on Oct. 10, 2018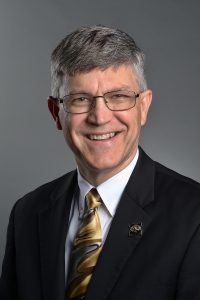 Similar to past issues, this edition of Mizzou Endeavors is full of stories about high-achieving students. Student success is an important part of our culture at Mizzou and it doesn't happen by accident. Our students are smart and motivated. They are also aided by programs designed to support their success and by faculty dedicated to helping them excel.
A year ago, we shared a story about a group of faculty that worked together to secure a grant from the American Association of Universities (AAU). Led by biological sciences professors Sarah Bush and Johannes Schul, 10 faculty members were responsible for MU receiving the grant, which supports efforts to enhance undergraduate education in science, technology, engineering and mathematics.
This issue of Mizzou Endeavors includes a story (page 12) about a collaborative effort of a group of faculty to analyze and reinvent curriculum at Mizzou. These faculty members spent part of their summer exploring innovative ways to re-envision the curriculum for learner-centered teaching practices.
These are just two examples of how faculty at MU go above and beyond to support learning. As our faculty demonstrate their continued commitment to students, we are strengthening our commitment to faculty. On page 10 is an introduction to Tori Mondelli, who earlier this fall became the founding director of our new Teaching for Learning Center. The center, which already has a virtual presence and soon will occupy a physical location, provides professional development and teaching assistance programs for all MU instructors.
Dr. Mondelli is already engaging faculty and developing transformative ideas as she shapes the future for the Teaching for Learning Center. Our faculty are constantly looking to advance their teaching and improve the learning experience for our students and I know that the Teaching for Learning Center will be a valuable resource for them.
I am grateful to be working at a place where faculty are so devoted to helping students excel in extraordinary ways.
As always, thank you for reading Mizzou Endeavors.
Go Tigers!
Jim Spain
Vice Provost for Undergraduate Studies
spainj@missouri.edu
@MUJimSpain